What is Shoresearch?
Shoresearch is a user-friendly and fun method of exploring the shore and recording the species and habitats found there. Shoresearch Cornwall has been run by Cornwall Wildlife Trust since 2012 and in this time we have carried out hundreds of surveys and have trained over 200 volunteers. 
Cornwall Wildlife Trust provide Shoresearch training at specific events and on each survey. Volunteers are welcome to come along to organised events but are also encouraged to carry out their own Shoresearch surveys and to send in their findings.
Check out our
Facebook page here! 
We use our facebook page to share news, fascinating facts and details of events. We also love it when people post up photos of creatures or plants found on Cornish shores that they would like help identifying!  
To be kept up to date with the project and upcoming surveys please join our mailing list by CLICKING HERE
How does it work?
We use 4 different survey methods. Not all are used at every survey but we always try to incorporate a walkover survey which is the best fun!
Timed Species Search
A twenty minute search of an area of shore looking for a small number of key species. Using photo cards. This method creates useful, comparable data. (submitted to Marine Biology Association Shore Thing project)
Walkover Survey
A targeted, informal search of an area of the shore with particular interest (usually the lower shore). All findings get recorded. (You can carry one of these out yourself see details further down this page!)
Biotope Transect Survey
This is carried out when monitoring over a long time scale. We take a tape measure and walking from the low water to high water mark we record the position of biological zones across the shore.
What do we do?
Whilst surveying we fill in a Shoresearch recording form and photograph habitats and species found. It is also important to use a GPS to pinpoint the position of transects and significant finds. When we've finished on the shore, usually in about 2 - 3 hours, we gather together afterwards to make sure that we have recorded a full list of all the species seen, linked to the main habitat types in which they were found, and with an estimate of their abundance. A Dropbox account is being used by the volunteers and Wildlife Trust Staff to share photos, records and useful resources.
Once trained Shoresearchers are encouraged to carry out their own surveys to help us gather as much data as possible. Instructions and recording forms are downloadable at the bottom of this page.
What happens to the information collected?
All the records gathered by Shoresearch will be used made available for all by the Environmental Records Centre for Cornwall and the Isles of Scilly (ERCCIS). The information helps us monitor change on the shore and provides biological information to counter potential threats. It has been particularly useful in gathering information on areas being considered as Marine Conservation Zones by the government in recent years and will be vital in monitoring these areas in future.
We are also very lucky that a number of our Shoresearchers are incredibly knowledgeable about a wide range of plants and animals, and are always happy to help others learn on the shore.
Who can take part?
Anyone and everyone! If you are keen to learn and happy to give up a few hours of your time you are welcome. Prior knowledge of marine life is not necessary, but it is still great for those that do already have a good level of knowledge. The shore can be slippery and hard to access so you do need to be fit and mobile to take part. We also ask that under 18s are accompanied by an adult.
Matt Slater says;
"Shoresearch surveys are fun and interesting and a great opportunity to meet like minded people. 
It is incredible how diverse the marine life is on our shores and exploring in a larger group means that you are pretty much guaranteed to find something new every time! Our volunteer team are really enthusiastic and the method we use is very user friendly and appeals to people with a wide range of experience and skills!".
What is happening this year?
 2019 survey programme coming soon!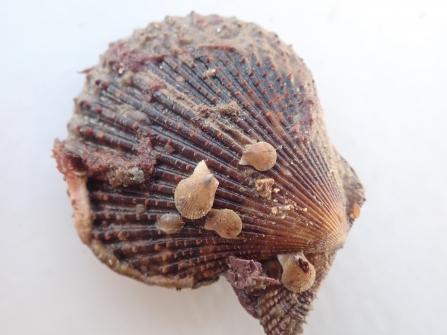 NEW! Carry out your own Shoresearch Survey
Whenever you are out on the shore it is easy to do your own Shoresearch. Just print out our walkover survey form  and take it with you. Make a note of exactly where you are. 
Take photos of the species you find using a digital camera or your phone.
Please record abundance of each species found using the Sacfor Scale. 
When you are back at home and can get online on a computer follow this link to the online recording form and you will find it is dead simple to upload your records and photos! Please only upload the species that you have accurately identified.
On the form there is a map based on Google Earth aerial photos, use this map to select the area you surveyed as accurately as possible. Start typing the name of a species, (don't worry common names work too!) and chose the species from a drop down list. 
Your records will be saved and will be vital for our conservation work. You can browse your own records and those of hundreds of other recorders by visiting www.orks.org.uk and setting up an account! 
Top tips
Look for landmarks that will help you find your location accurately when you look at our Google Earth based map.
Zoom in on a few test photos to ensure the photos taken are in focus and clear
Don't worry if you can't identify some species. We are happy to help you with that, just contact us via email or our facebook page
details help! for each species there is a box where you can type notes. You don't have to use this but if it is a really rare find please use this to describe the location or better still include a GPS reference.
Have fun Shoresearching! 
KEEP SAFE! Please remember that you are responsible for your own health and safety when on the shore. Always check the tide times and weather forecast and don't survey alone.