What is the G7 Legacy Project for Nature Recovery?
Cornwall Wildlife Trust is the main delivery partner in an ambitious nature recovery project, aiming to deliver a lasting legacy for nature, climate and the people of Cornwall. The G7 Legacy Project for Nature Recovery (G7LPNR), in partnership with Natural England, will knit together and restore land and habitats for key species like dormice, marsh fritillary butterflies and willow tits. It will also improve access to nature for people's wellbeing, improve water quality, sequester carbon and employ skilled staff and apprentices to work with local people and communities.
The area will form part of an England wide nature recovery network – a national network of wildlife-rich places which the government has committed to creating in its 25 Year Environment Plan.
Find out more about nature recovery networks by watching our video below:
 
Visit the Nature Recovery Network webpage
Where is the project today?
Since the Prime Minister announced the project's funding at the G7 summit in June, much progress has been made. The project team (who you can get in touch with below) have been recruited, nature recovery activities such as tree planting are beginning to take place and the team have started organising opportunities for local people to get involved through volunteering and social prescription.
More activity will be delivered by March next year which will help people to access nature in the project's catchment area, including disabled access to the Cornwall Beaver Project, car parking improvements at Helman Tor Nature Reserve and a new multi-user trail at Goss Moor. The team will soon be welcoming expressions of interest from the local community for future projects that can be delivered for nature's recovery between March 2022-2025.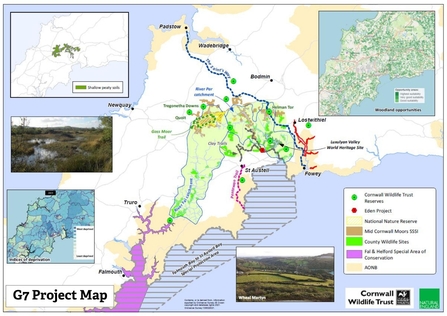 What are the project's aims?
The G7 Legacy Project for Nature Recovery (G7LPNR) aims to create new nature rich places and restore protected sites, species and landscape quality in the mid Cornwall area.
This includes plans to connect nature reserves, such as Goss Moor National Nature Reserve and a suite of Cornwall Wildlife Trust reserves, to Sites of Special Scientific Interest (SSSIs), the Cornwall Area of Outstanding Natural Beauty (AONB), the Cornwall Mining World Heritage Sites, the coast and the Fal estuary and across the china clay pits to the World Heritage Site at Luxulyan Valley.
The project – expected to take five years to complete depending on future funding – will deliver for nature, for climate and for people, and will contribute to the UK's target to legally protect and improve 30% of land for nature by 2030. 
Natural England, Cornwall Wildlife Trust and Defra in partnership with others are aiming for the G7LPNR to deliver a lasting legacy for nature and people by:   
Restoring land through nature recovery and recreating scarce habitats through sustainable farming. Natural regeneration will be used to create scrub and woodland communities; scarce habitats such as heathland and wetland will be created, as well as the development of meadows and pasture, and the restoration of peat mires in the River Fal headwaters.   
Providing opportunities to reintroduce lost species and improving resilience for key species including dormice, marsh fritillary butterflies, and willow tit.   
Sequestrating approx. 440,000 tonnes of CO2 through forest growth and wetland restoration, including peat habitats, improved soil condition and the recovery of marine blue carbon habitats.   
Improving water quality, encouraging fish diversity and abundance, and reducing flood peaks to reduce downstream flooding.  
Improving access to green space and green social prescribing so people across the county can enjoy the wellbeing benefits of contact with nature.  
To enable transformation at this scale, the programme will employ skilled staff, develop a green jobs apprenticeship scheme and involve extensive community engagement to kickstart the development of nature's recovery in Cornwall.
It is hoped that once the project is complete, it will act as a major driver for future green prosperity in Cornwall through green jobs, sustainable tourism and farming, and a significant contribution to the national Nature Recovery Network as set out in the Environment Bill. 
With additional investment and strong environmental laws and protection, Cornwall Wildlife Trust and partners can help deliver bigger, better managed and more joined-up wildlife habitats for nature to thrive.

Chief Executive of Cornwall Wildlife Trust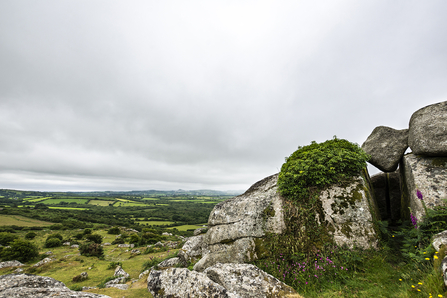 Get in touch
The G7LPNR team would love to hear from you to discuss opportunities of how to get involved with the project.