About
The amazing Atlantic facing sand dunes at Penhale are classed as a Special Area of Conservation (SAC) and a Site of Special Scientific Interest (SSSI). Penhale is one of the largest dune systems in Cornwall, spanning 620 hectares.
With sand dunes listed as the habitat most at risk in Europe for biodiversity loss, it's an incredibly important area to protect for nature.
Penhale Dunes is not owned by Cornwall Wildlife Trust, but it's a site where the Trust work in partnership with other landowners, including.
Perran Sands Holiday Park (management of Gear Sands)
Ministry of Defence.  The military training area is used for a variety of training activities and its boundaries are marked by red and white posts. There are no public footpaths through the site, but the South West Coast Path runs alongside the Western boundary.
Perranzabuloe Parish Council (land near Perranporth Beach)
Perranporth golf club
St Pirans Trust who own scheduled ancient monuments (St Pirans Oratory and Church).
Wildlife – what to look out for…
There is so much to see!
The fixed dune vegetation and dune slacks (seasonal ponds that can hold water from autumn to spring) are two significant habitats where you will find AMAZING wildlife.
The silver-studded blue butterfly thrive here because of the large amount of flower rich, short turf, dune habitat.
The dune slacks are home to water mint, silver weed and southern marsh orchids as well as grass snakes, newts, frogs and dragonflies.
It's a fantastic area for reptiles. On hot sunny days look out for adders, grass snakes, slow worms and common lizards.
There are rare plants like the tiny petalwort.  Very few sites in the South West have this.  It's miniscule and tricky to find, but really striking when you view through a hand lens with a light.  Petalwort likes damp conditions.  It thrives in bare ground and can be seen in autumn.  This beautiful fingernail sized foliage  looks like a mini-iceberg lettuce.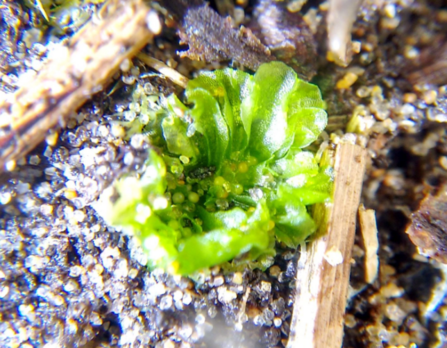 The super scarce shoredock plant is another to watch out for, with the shape of the seeds being the only way you can differentiate between it and other docks.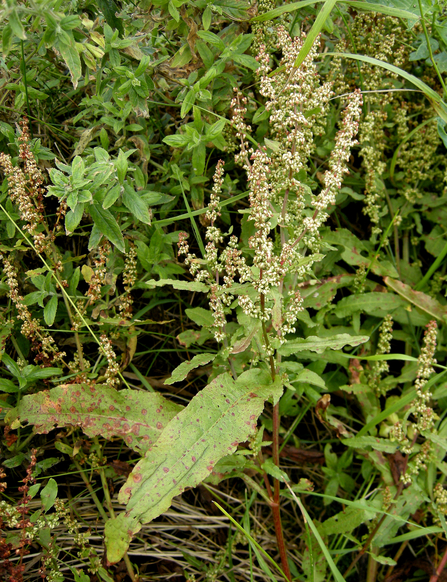 You'll also find carpets of wild thyme, kidney vetch and bird's-foot-trefoil  (aka "eggs and bacon" due to the yellow flowers tinged with pink)
Take a look at the Dynamic Dunescapes website for further wildlife spotting details and information on work being done to preserve this special site.  Dynamic Dunes is a project funded by the National Lottery Heritage Fund and the EU LIFE Programme.  It's a partnership between Natural England, Plantlife, National Trust, Natural Resources Wales and the Wildlife Trusts. We're all working together to rejuvenate some of England and Wales' most important sand dunes for people, communities and wildlife.
How can you help nature in the Penhale Dunes?
Nature needs you!
There are actions you can take to nurture this precious environment and protect the wildlife that lives there.
Here's how...
Stick to the established paths to avoid trampling delicate plants
Cause minimal disturbance as you pass through the dunes.  When wildlife is disturbed, heightened heart rates means an energy deficit for that animal (not a good thing when nature is already having a hard time surviving).
Keep dogs under close control and out of the dune slacks (seasonal ponds).  This is key in spring and summer when nature is coming back to life.  Fragile dragon fly nymphs will be climbing up stems of plants ready to launch.  Delicate tadpoles and newts will be emerging, along with loads of other invertebrates and amphibians. The sediment at the bottom of these dune slacks is like a maternity ward for wildlife babies, young creatures at their most vulnerable, so please keep paws out of ponds.
If you are dog walking there are further suggestions in this article on where to let your dog off lead and how to dog walk in harmony with nature.
Be aware of Skylarks nesting.  These rare ground nesting birds need to make two or three attempts to nest between April and August to sustain the population. 
With your help there is hope for nature to thrive at Penhale Dunes
Don't forget to pick up...
Whilst dog ownership can be a rewarding and wonderful experience, one of the less loved elements of taking our beloved hounds for a stroll can be walking around with a small bag of poo in our hands.  However, the wonderful people at Dicky Bags have invented a fine solution to this. These clip-able 'poop-pouches' come in a variety of designs and are discrete and fully aroma proof and leave you hands-free to enjoy your walk.   Check out the link to find out more: