Cornwall's hedgehogs are disappearing – you can help them make a comeback
The faster we raise vital funds, the faster we can act to protect them from possible extinction.
The UK's favourite mammal needs your help
Hedgehogs are now classed as vulnerable to extinction. If we don't act now, they could be lost forever. 
We face the devastating announcement that hedgehogs are now on the conservation Red List. Whilst distressing, this news sadly wasn't a surprise, with UK hedgehog numbers decreasing by around two thirds since 1990. Their habitats are threatened and it's increasingly difficult for them to find food or travel; as a result, many face hunger and isolation.
The faster we raise vital funds, the faster we can act to protect them from possible extinction.
Thanks to our generous supporters and members who have donated to our Hedgehog Appeal so far - we have surpassed our target and have raised over £31,000 to help protect hedgehogs in Cornwall from possible extinction. But there's still more work to be done. Please continue donating if you can to help us carry out our collaborative, hedgehog-saving work across Cornwall. 
Donate to our Hedgehog Appeal now
You can help hedgehogs have a future - whatever you can give will make a difference.
A sharp decline
There are many reasons for hedgehogs' decline: increased housing developments, intensification of farming, loss of habitat and food supply, the destruction of hedgerows (which allowed them to travel in safety), the concreting of gardens and the growth in pesticides, which have not only decimated their food supply but actually poisoned these gardeners' friends.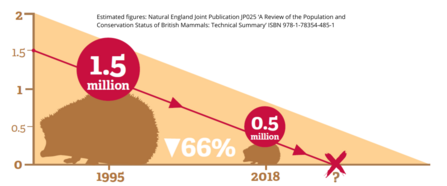 Hedgehog numbers are at an all-time low and if we don't act now they could be lost forever

Chair of Cornwall Mammal Group
The decline really hits home when you consider how infrequently we see hedgehogs. Consider for a moment: when did you last see a hedgehog in Cornwall?
What we will do
Turning this around will be a big undertaking… but an achievable one. To reverse the rapid decline, Cornwall Wildlife Trust is leading Operation Hedgehog. In December 2020, we organised an online Wildlife Matters event to discuss what we can all do to help. Chaired by Head of Conservation, Cheryl Marriott, the panel included Cornwall Wildlife Trust's Tom Shelley and Laura Fox, who were joined by Dave Groves from the Cornwall Mammal Group and Dave Hudson and Katy South from Prickles & Paws Hedgehog Rescue. You can watch the livestream back below.
In early 2020, we launched our appeal for Operation Hedgehog. With our partners, Cornwall Mammal Group, Prickles and Paws Hedgehog Rescue, and the University of Exeter, we will...
Survey hedgehog numbers, so we can understand where and why they're most vulnerable
Work with and influence landowners, developers and policy makers, to improve and create habitats that feed, shelter and protect hedgehogs
Support community activities to help people take action for hedgehogs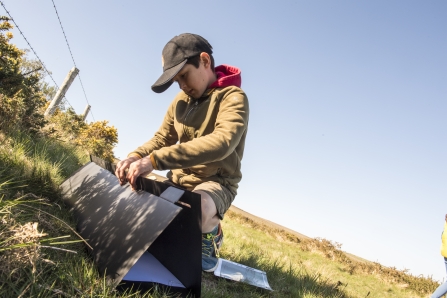 "I don't want hedgehogs to disappear forever so this is why I volunteered to help them by doing surveys for Operation Hedgehog."
Laurence, age 12
North Cornwall Hedgehog Volunteer
How you can help right now
The classification of hedgehogs as 'vulnerable to extinction' is a warning. It isn't an inevitably. Your donation will mean our coordinated, hedgehog-saving action will happen across Cornwall.
Please help Cornwall's hedgehogs - it takes less than two minutes to donate and will enable us to begin taking the steps required to reverse this decline.
Donate to our Hedgehog Appeal
Your contribution will make a difference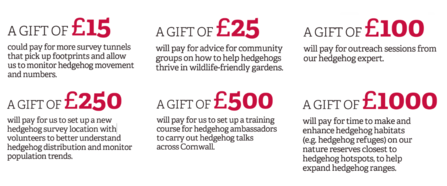 ... or set up a fundraiser!
You can also fundraise for our Hedgehog Appeal through our JustGiving page. You can either connect your own fundraising page to our Hedgehog Appeal page in JustGiving or you can donate directly to our JustGiving page. There have been so many sponsored stair climbs, walks, cycles and camp-outs during lockdown - why not challenge yourself and raise money to help hedgehogs have a future!