Cornwall Good Seafood Guide
We have worked closely with Cornish fishermen to produce the Cornwall Good Seafood Guide, a website which helps us all make good seafood choices. Our guide helps you find where in Cornwall you can eat or buy fresh Cornish seafood! 
Our Cornish fishing industry is something we should all be proud of, but knowing what fish to buy is a complicated issue. Cornwall Good Seafood Guide is here to help! Visit our website to find:
Detailed information on sustainable Cornish seafood,
Information on over sixty seafood species landed by commercial fishermen to Cornish Ports.
Learn about the thirteen different fishing methods currently in use.
Find out where to buy sustainable local seafood on our Where to buy Directory
Discover great recipes to help you enjoy sustainable local seafood.
Meet the fishermen section
The ethos behind the project is that we must work with the industry to reward good practice and to incentivise further improvement for the long term benefit of the industry as well as the health of the marine environment.
Visit Cornwall Good Seafood Guide website.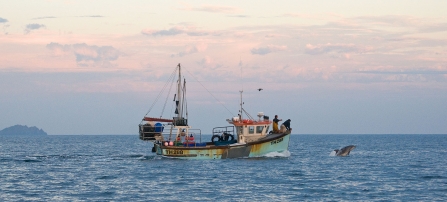 Project funding and contact
This project was set up thanks to EU and MMO funding. To continue the work of the project we have set up a supporters scheme which allows local businesses to highlight sustainable seafood on menus, fishmongers counters and on the packaging. We are very keen to hear from any local businesses who would like to become supporters of this positive project! Click here for more information on the supporters' scheme. 
For more information visit the website and to get in touch please email: seafood@cornwallwildlifetrust.org.uk