The UK's favourite mammal needs your help
It's small wonder that hedgehogs are the UK's favourite mammals.[1] A lucky few of us have been charmed by the sight of a hedgehog at night, rolling itself into a prickly ball before gradually unfurling and snuffling away.
But that's a fast-fading memory, as hedgehog numbers have halved in countryside locations in the last 20 years.[1] Furthermore, when considering populations across the UK, hedgehog numbers have declined by 2/3 in the past two decades.[2]
They need our help. It's a desperate situation and one that can only be solved by this generation.
You can help us reach our £25,000 target which enable us to undertake and coordinate ambitious hedgehog-saving, county-wide action.
A sharp decline
There are many reasons for their decline: increased housing developments, intensification of farming, loss of habitat and food supply, the destruction of hedgerows (which allowed them to travel in safety), the concreting over of gardens and the growth in pesticides that have not only decimated their food supply but actually poisoned these gardeners' friends.
Hedgehog numbers are at an all-time low and if we don't act now they could be lost forever

Chair of Cornwall Mammal Group
The decline really hits home when you consider how infrequently we see hedgehogs. Consider for a moment: when did you last see a hedgehog in Cornwall?
What we will do
Turning this around will be a big undertaking… but an achievable one. To reverse the rapid decline, Cornwall Wildlife Trust is leading Operation Hedgehog.
With our partners, Cornwall Mammal Group, Prickles and Paws Hedgehog Rescue, and the University of Exeter, we will...
identify the whereabouts and sizes of hedgehog populations through initiatives such as expert and citizen science surveys
educate and work with land managers, developers and policy makers to protect hedgehogs when planning new developments
support volunteer community groups to spread the word and build homes for hedgehogs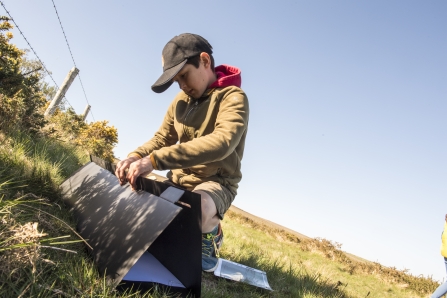 "I don't want hedgehogs to disappear forever so this is why I volunteered to help them by doing surveys for Operation Hedgehog."
Laurence, age 12
North Cornwall Hedgehog Volunteer
How you can help right now
To coordinate hedgehog-saving action across the county and ensure these activities are effective, we need your help. Right now, the best action you can take is to donate to our Hedgehog Appeal. It takes less than two minutes and will enable us to begin taking the steps required to reverse this decline. Your contribution to the £25,000 target will make a difference.
Donate to our Hedgehog Appeal
Your contribution to the £25,000 target will make a difference

[1] The Royal Society of Biology
[2] Natural England Joint Publication JP025 'A Review of the Population and Conservation Status of British Mammals: Technical Summary'