Cornwall Wildlife Trust is working with hundreds of farmers across Cornwall, encouraging methods which benefit wildlife on land and in the rivers.
Eighty percent of Cornwall is farmed. The countryside is dominated by grass pastures for beef and dairy cattle, with daffodils and food crops grown on the more fertile soil. Farming is vital to feed a growing population, but must be managed in a way which sustains long term food production and a healthy ecosystem.
When land is managed to produce food and protect wildlife, species will be able to move and thrive beyond the wildlife hotspots like Nature Reserves. In practice this means protecting the remaining wild places on farms, looking after hedgerows and rivers which are important wildlife corridors, and ensuring pastures and cropping land are also managed to provide food, shelter and nest sites for wildlife.
Well managed farmland also provides many other functions like cleaning water, holding back floodwaters and storing carbon.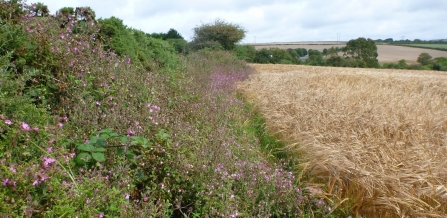 Free practical support
Cornwall Wildlife Trust has a team of farm advisers and ecologists who work to build relationships with farmers, finding ways to make space for wildlife which are complementary to farm business.
The farm advisers are all qualified in Basis FACTS.
Soil testing and nutrient management planning
Support with applications to Countryside Stewardship
Funding towards infrastructure like guttering, track work, alternative cattle drinking
Ecological surveys and advice on managing wildlife habitats
Practical tasks from a skilled volunteer group, including Cornish Hedge repairs and scrub management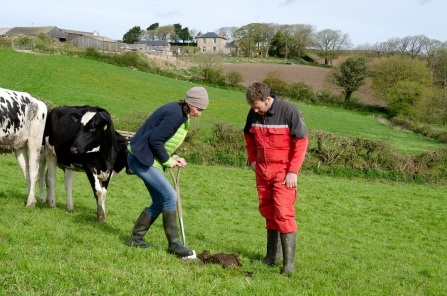 Current projects
Our work with farmers is project based and tends fall within geographic boundaries, with fixed timescales and outputs. Projects are funded by private and public bodies which also stand to benefit from well managed farmland.
Cornwall Wildlife Trust is one of four delivery partners for South West Water's Upstream thinking Project (UST). The project is a catchment management scheme which applies natural landscape-scale solutions with the objectives of:
Reducing diffused agricultural pollution
Improving catchment resilience to extreme weather
Improving the natural capital stock in its catchments
Find out more about the project successes, case studies and find out if we can help you on your land by going to the dedicated Upstream Thinking Project page.