Cornwall Catchment Partnership
Improving water resources throughout Cornwall for people and wildlife
About
Cornwall Catchment Partnership (CCP) was established in 2014 with the aim to improve the water resources throughout Cornwall. As part of the national Catchment Based Approach movement, we bring together local people, communities, organisations and businesses to make decisions on managing the streams, rivers, and lakes of Cornwall.
Our multi-partner approach enables delivery of the Defra 25 year Environment Plan, Cornwall's Environmental Growth Strategy, and moves Cornwall towards climate resilient catchments, places, and a long term sustainable future.

Our catchments
Cornwall is a unique place characterised by an extensive range of natural features, including sandy beaches, estuaries, moorland, pastureland, and an extensive network of streams and rivers. The topography of Cornwall is such that there are over 300 different water bodies, all of which, due to their proximity to the sea, have an influence on the marine environment. These 300 waterbodies have been clustered (see map) by The Environment Agency into thirteen operational catchments to help focus the management efforts of the Catchment Partnership . Ten of these water bodies fall within the Cornwall Catchment Partnership's domain, the three on the border with Tamar Catchment Partnership. Both partnerships have a close working relationship.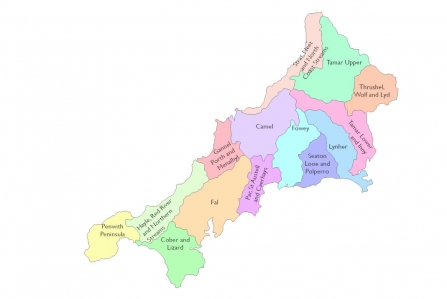 Our focus
The Catchment Partnership recognises the diversity of Cornwall's water bodies. Rather than targeting individual sites, the Partnership seeks to develop and apply universal principals for dispersed and widespread catchment improvements. The Partnership therefore works strategically across themes:
Soils
Connected Habitats
Connected Communities
Integrated into the Local Nature Recovery Plan and Nature Recovery Networks
Case study
The Partnership supports local groups across Cornwall with advice and resources. Loe Pool Forum is one group which has benefited from the Partnership. Loe Pool Forum, led by the National Trust, is working in the Helston area of west Cornwall to improve the water quality and habitat around the largest natural freshwater lake in Cornwall. The Forum initiated in 1996 to address the algae blooms in Loe Pool which were detrimental to wildlife, plants, and its amenity value. Working collaboratively with farmers and South West Water the Forum has quartered the nutrient input, with no algae blooms since 2006. Loe Pool and the catchment are now on positive trajectory of improvement to the benefit of all.
Loe Pool film by Nature Watch
List of partners
Improving the water resources in Cornwall requires coordination and collaboration with our partners: