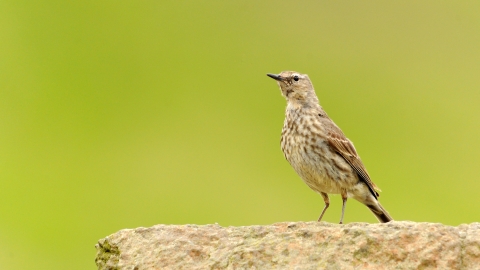 Rock pipit
Scientific name:
Anthus petrosus
A common and stocky bird of our rocky coasts, the rock pipit can nearly always be seen close to the sea. It is a bit smaller than a starling.
Species information
Statistics
Length: 16-17cm
Wingspan: 25cm
Weight: 24g
Average lifespan: up to 5 years
Conservation status
Classified in the UK as Green under the Birds of Conservation Concern 4: the Red List for Birds (2015).
When to see
January to December
About
The rock pipit is a common bird of rocky beaches that feeds on seeds, small molluscs and invertebrates it finds among the stones. It breeds around the coast and is mostly resident - only the young disperse once they are independent. Our rock pipits are joined by birds from Norway in winter.
How to identify
A streaky, dark grey-brown bird, the rock pipit has blackish legs. The similar-looking meadow pipit is smaller and has pale, flesh-coloured legs.
Distribution
Found around most rocky coasts.
Habitats
Did you know?
The closely related Water Pipit nests in the Alps and other European mountains and is a rare winter visitor to marshland in southern England.
How people can help
The Wildlife Trusts manage many coastal nature reserves for the benefit of the wildlife they support. You can help by supporting your local Trust and becoming a member; you'll find out about exciting wildlife news, events on your doorstep and volunteering opportunities, and will be helping local wildlife along the way.