What is the plan for vaccination in Cornwall? The badger cull is happening now across 54% of Cornwall.
There is no doubt that badgers are an adaptable species and have recovered from past persecution, but might we now be pushing them too far? Badgers deserve a place in our countryside and no Wildlife Trust will allow badger culling on its land.
We feel strongly that vaccination of badgers against TB is a viable cost effective alternative with many practical advantages.
Cornwall Wildlife Trust has been working on the issue of badgers and bovine TB (bTB) for several years. We feel Badgers deserve a place in our countryside and we are strong advocates of badger vaccination. Please click here if you'd like to support our Badger Vaccination Appeal.
We plan to vaccinate badgers on our Nature Reserves, starting with the relevant sites in the North Cornwall Cull zone. Vaccinating badgers on our reserves is the right thing to do for badgers, for cattle and for neighbouring landowners and cattle farmers.
By carrying out vaccination on our own sites, we will learn about the practicalities of the technique and be in a better position to advocate vaccination as a method of controlling bTB in badgers more widely in Cornwall. We can then encourage others to follow our lead and choose vaccination in preference to culling as one part of a wider long-term bTB eradication programme
Frank Howie, Trustee and Chair of the Trust's Conservation Strategy Committee explains,
"We feel that the controversy surrounding badger control in Cornwall detracts from working positively in partnership on other measures which will help to reduce and eventually eradicate bovine TB. It can be easy to forget that we all want the same thing- for Cornwall to be free of this disease. We need to work together on this long-term if that vision is to ever become a reality."
Head of Conservation, Cheryl Marriott's article 'Focus on Badgers' addresses how we can live with badgers, in harmony, and move forward with vaccination programmes, The science is becoming more widely accepted, with Cornwall Wildlife Trust's vaccination programmes on our Nature Reserves aiming to demonstrate this as a more successful option.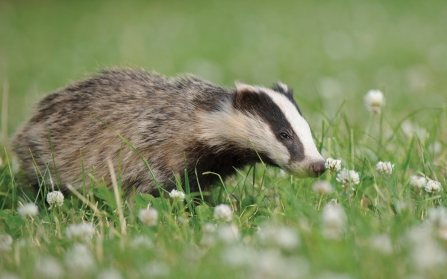 There are 3 main ways in which we are raising the profile of badger vaccination
1. Supporting the West Cornwall Community Badger Vaccination Project
We featured this project led by the Zoological Society of London, in issue 127 of our Wild Cornwall magazine. Over a 5 year period researchers and local volunteers are vaccinating badgers across the entire Penwith peninsula. The Trust sits on the oversight committee for this project and our Wild Penwith volunteers have been involved in the practical side. The Trust's Nature Reserves in the area are included in the project
2. Sitting on the Cornwall TB Eradication group
Cornwall Wildlife Trust is working with farmers, vets, academics, and others as part of the new Cornwall TB Eradication Group. Initiated by Defra, the group will be tasked with formulating locally relevant, practical solutions towards eradication. We want to ensure that all potential measures for reducing bovine TB in cattle will be considered, in proportion to their potential impact. This is a useful forum to highlight the practical advantages of badger vaccination to farming groups and vets.
3. Vaccinating badgers on our Nature Reserves
We support badger vaccination as the best option for Cornwall and are beginning our vaccination programme on our North Cornwall nature reserves, hoping to roll this out more widely.
Donate to the Badger Vaccination Campaign
We're raising money to expand the vaccination programme to include several thousand acres of farmland in Cornwall
The Badger Vaccination Campaign is raising money to expand the vaccination programme to include several thousand acres of farmland in Cornwall. Farmers in mid-Cornwall will pay towards the vaccine and running costs, but we still need to raise funds to buy extra cage-traps and other expenses so we can vaccinate across the whole area. With your help, our ultimate goal is to vaccinate badgers throughout Cornwall as part of our long-term badger vaccination project.
"Badger vaccination is a promising way to control TB. It is good to see Cornwall Wildlife Trust showing leadership by vaccinating badgers on its reserves, protecting wildlife while also acting as a good neighbour to nearby farmers"

Zoological Society of London