Recording Cornish marine life
A trial which could minimise the bycatch of seabirds was explained to Seaquest volunteers, Cornwall Wildlife Trust's marine recording group, at a meeting held this month at the Rockpool Café, Godrevy.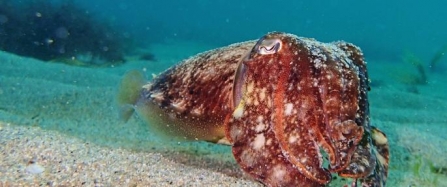 Natural England's Caz Waddell gave an insight into the trial which is to be carried out in the proposed St Austell Bay protected area. It involves a very simple solution of black and white striped panels attached to the nets.
The meeting brought together volunteers with Seaquest and various speakers including Cornwall Seal Group who reported that during a year of surveys and sightings a number of entangled seals had been rescued, and they were thriving and being spotted regularly by volunteers. They are also involved, with Cornwall Wildlife Trust and the National Trust, in delivering marine disturbance training to groups throughout Cornwall.
Guest speaker was Paul Naylor, renowned marine photographer, whose talk focused on limpets and cuttle fish. But the evening was mainly about the marine volunteers who had worked throughout the year recording marine life.
Seaquest Southwest Project Coordinator Kate Drake says,
"Thanks to the volunteers' hard work, we are able to monitor our inshore bottlenose dolphins, survey the coastal beaches and rock pools, and tackle marine wildlife disturbance."
For more information about Seaquest and the work it does please go to http://www.cornwallwildlifetrust.org.uk/seaquest