Vibrant marine life surveyed on Manacles Reef
The Manacles, a treacherous rocky reef that juts out from the Lizard peninsula, famous for the shipwrecks that it has caused, is also designated as a Marine Conservation Zone. Cornwall Wildlife Trust has now carried out a Seasearch Dive expedition to survey its marine life. It was strikingly clear from the very first dive what an amazing underwater area this is.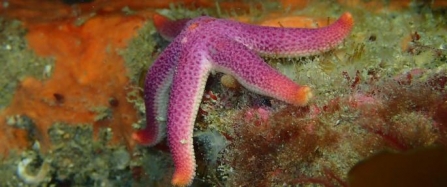 Twelve highly experienced volunteer divers took part in the surveys, made possible with a grant from marine charity Sea-Changers, and carried out from Porthkerris Dive Centre.
They also took in areas just to the south of the Marine Conservation Zone, off Lowland Point and a rocky pinnacle called Puskies rock, both of which are also home to some stunning marine creatures.
Marine Awareness Officer for Cornwall Wildlife Trust, Matt Slater said,
"On the Manacles huge numbers of filter feeding organisms take advantage of plankton-rich seawater currents that buffet the reef. As a result every surface of the reef is totally covered in colourful anemones, sponges, soft corals, such as pink sea fans, and dead man's fingers, and fluffy coral like animals, known as hydroids".
Matt Slater continued,
"You can see why this area is so famous for its marine life and it is fantastic that this reef has been designated as a Marine Conservation Zone". 
Many different species of fish were seen including, pollack, corkwing wrasse and inquisitive cuckoo wrasse, among the UK's most brightly coloured fish species, and they are abundant on this productive reef.
Another highlight was the discovery of a rarely recorded species, the sea fan anemone, Amphianthus dohrnii. This species is only ever found growing attached to the impressive soft coral called the pink sea fan which itself is nationally scarce. On the Manacles pink sea fans are common and we noted that on one dive site at least 60% of the sea fans were home to these rare anemones with up to ten anemones per sea fan.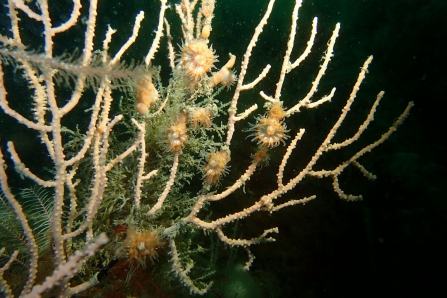 There are abundant kelp forests in the shallower areas of the reef which are home to juvenile pollack and a huge diversity of red seaweeds. Further out the walls of rock are covered in fluorescent jewel anemones in a wide variety of gaudy colours.
A species which was notably present was the Crawfish, also known as the spiny lobster which was seen on most of the dive sites. This is a species which became very rare in our waters in the 1980s and was virtually extinct by the 1990's but now seems to be making a welcome return to our shores.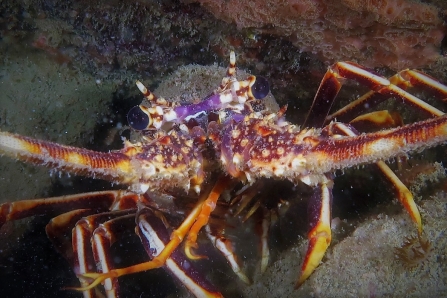 Matt Slater continues,
"We are calling on divers to record their sightings of this species and to report them to Cornwall Wildlife Trust".
Marine biologist and underwater film maker Thomas Daguerre described the Manacles as one of the most incredible dive sites he had seen and along with dive buddy Andrew Ball they are making a promotional film about the expedition.
For more photos and videos of the survey results go to the Facebook group @Seasearch Cornwall. As part of a national project called Seasearch, Cornwall Wildlife Trust is training divers to help with their conservation work by recording the marine life encountered on dives! There are many more dives and training opportunities coming up this summer including, a seaweed Identification workshop and a Sea squirts Identification workshop. Find out more at www.cornwallwildlifetrust.org.uk/seasearch