Three seasons of Cornish colour
It's all aboard for this year's Open Gardens events with a number of new gardens opening this year along with established favourites. One is even offering visitors a steam train ride, while others are changing their opening seasons, giving a completely fresh view of their gardens.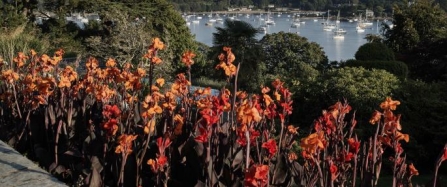 This will be the sixth year the Trust has run their Open Gardens fundraising scheme. Last year was a record breaker with over £11,600 raised which went towards the Trust's ongoing work protecting Cornwall's wildlife and wild places. The scheme has grown year on year and now has an overall sponsor with Cornwall tourism company Stayincornwall.co.uk, plus the continued support from Crantock Bakery and Roddas, who will again be providing pasties and cream teas.
This year the Trust is hoping for an even bigger attendance at all the gardens, and there really will be something to interest everyone. The gardens involved vary in size from grand 52 acre affairs to the more intimate cottage gardens, and the plants from immense trees to tiny rock plants, but all are dedicated to the welfare of our wildlife. What better way to spend a Sunday in the spring or summer than touring around the county visiting some of Cornwall's finest gardens and at the same time raising money for the protection of Cornwall's wildlife.
Mark Nicholson, Chairman of Trustees for Cornwall Wildlife Trust says,
"The Trust's varied Open Gardens programme of events gives endless opportunities for everyone to find out about Cornwall's unique nature. Through the scheme, the organisers and owners offer a beautifully simple way for people to enjoy that nature and contribute to safeguarding its future."
New gardens this year are 2 Trenance Cottages at St. Newlyn East, Bolts Quarry Farm at St. Breward near Bodmin, Wildflower Cottage at Rose - where you can enjoy a steam train ride through the gardens, Trevoole Farm at Praze-an-Beeble, and Garten Garden at Constantine.
The garden at 2 Trenance Cottages is a lovely family garden and includes a thriving 10-year-old orchard, Bolts Quarry Farm has a quarry garden and wildlife area, Wildflower Cottage, open to the public for the first time ever, has the steam train and a walkthrough aviary. Trevoole Farm puts the emphasis in their garden on wildlife, while Garten Garden is a truly magical place with ecological awareness. With the regular favourites as well, including Lethytep at Penadlake, Higher Trenedden at Peakswater, and May Tree Garden at St. Austell, this looks like being another terrific year for visiting the glorious gardens of Cornwall.
Trenarth, at Constantine, always a favourite with visitors, not only for its gardens but also for the resident bat colony, has moved to a spring opening from the autumn, while Pedn Billy, with its glorious views of the Helford Passage, opened last year's event in the Spring but this year will be closing the event in the Autumn.
First garden to visit is on Sunday 8th May when Coldrenick House near Liskeard opens to the public.
Coldrenick House at Menheniot, St. Germans, Sunday 8th May from 2pm-5pm.
As one of Cornwall's premier estates, Coldrenick has a long history, and dates back over 300 years. The historic gardens include a walled garden, Victorian shrubbery and meadowland. There is a mix of lawns, bedding plants and shrubs with ornamental trees. Magnolias, camellias and bamboos thrive here, and the bluebells promise to be absolutely stunning. As one of Cornwall's premier estates, Coldrenick has a long history, and dates back over 300 years.
Trenarth at Constantine near Falmouth, Sunday 15th May from 2pm–5pm.
This beautiful four acre garden is set around a 17th century farmhouse in a lovely pastoral setting, with an ancient courtyard, listed garden walls, gravel and palm areas. There is year-round interest with the emphasis on unusual plants, structure and form. An ancient green lane circular walk through bluebell woods offers wildlife interest including a pond with a tree fern grove. Trenarth is a maternity roost of lesser horseshoe bats, so as well as being able to visit the garden, visitors can learn more about this amazing species. Dogs permitted on leads.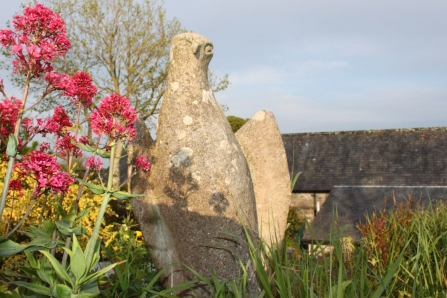 2 Trenance Cottages, St. Newlyn East, Sunday 22nd May from 2pm-5pm
This lovely family garden, open for the first time in 2016, has grown and developed over the 30 years the owners have lived here, from a small cottage plot to a landscaped garden of lawns and shrubberies adjoining 8 acres of paddock and woodland. The main garden is divided by mixed shrub borders into separate areas to provide shelter from the prevailing winds but retaining the open views towards St Newlyn East village. Part of the garden includes an extensive fruit and vegetable area with a thriving ten year old orchard of traditional Cornish apple varieties as well as several Kea plum trees. Beyond the main one and half acre informal gardens, marked by a wild flower border, is a two acre paddock and adjoining six acre field which provide grazing for the owners' two horses and pony and hens. Well behave dogs are welcomed.
Bolts Quarry Farm, St. Breward, Bodmin, Sunday 5th June from 2pm-5pm
When the owners moved to Bolts Quarry Farm 18 years ago there was very little garden. Since then the gardens have evolved and there is now a Pond and Bog Garden, Quarry Garden and Wildlife Area, a Shrub area under planted with Pheasant Eye daffodils, a two acre, granite strewn, hillside broadleaf plantation which is ablaze with bluebells in the spring, a circular walk and granite spoil heap, a Mowhay 'Rock' Garden planted with flowers and shrubs and a 'Front Garden' with perennial planted borders. The gardens have been a very steep learning curve for the owners, which still continues. Dogs on leads are allowed.
Wildflower Cottage, Rose, Sunday 12th June from 2pm-5pm
A garden with the added attraction of a train ride and one for bird enthusiasts. Three steam locos will be running on the day to take visitors around the one and a third acre gardens. This quarter of a mile ride links all the garden and woodland areas, but there are walks as well. A waterfall links seven small ponds and there is a large pond with wild ducks. The owners are currently constructing a 55 foot by 20 foot walkthrough aviary with seating, housing ornamental ducks and free flying birds. The cottage itself is of cob construction and the front of the house is planted in tropical style.
Lethytep at Pendalake near Lanreath, Sunday 26th June from 11am–4.30pm.
This spectacular 52 acre garden is an established favourite and is literally a giant playground for Cornish wildlife with woodland, meadows, lakes and ponds. Lethytep is particularly renowned for butterflies, dragonflies and wild flowers. There is plenty to see and do here for the keenest naturalist and wildlife gardener. 
Trevoole Farm, Praze-an-Beeble, Sunday 3rd July from 2pm-5pm
Trevoole Farm has historically been used as a farm and market garden supplying produce locally and far beyond. The present owners purchased the farm in 2002 and set about restoring the farmhouse and its outbuildings, and the grounds some of which are being used for animals and some garden. The owner is now taking the garden in a slightly different direction encouraging wildlife and nature wherever possible. Granite lined flower borders lead to the farmhouse courtyard and a shade and bog garden. A Rose walk, past the chickens and a herb garden, takes visitors to a patchwork and vegetable garden, a wildlife pond and an orchard leading to the greenhouse and shepherds hut garden. Dogs allowed on leads.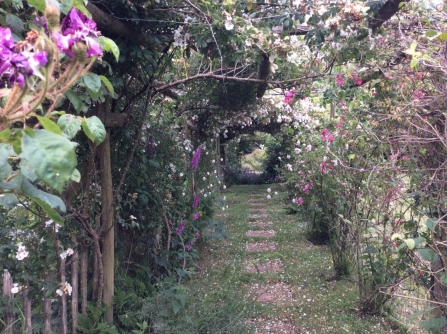 Higher Trenedden in Peakswater near Pelynt, Sunday 24th July from 2pm-5pm.
This four acre garden is set in a quiet valley with countryside views. It ranges from an established cottage garden to an arboretum planted ten years ago, with specimen trees, a meadow with a large pond, and board walk through marshlands which are home to an abundance of wildflowers and wildlife. A garden thriving with wildlife, so no dogs allowed.
The Ranch House, St Issey near Wadebridge Sunday 7th August 2pm-5pm
A 1 ½ acre tranquil garden bordered by beautiful countryside. Six garden rooms provide visitors with a variety of different seasonal plants, shrubs and "nooks and crannies" to explore. The garden includes an orchard with seven different apple varieties and a vegetable garden. As well as three pheasants who spend much of their time in the garden there are also rare breeds of hen. There is also a studio with Fused glass, ceramics and porcelain for sale.
May Tree Garden in St. Austell, Sunday 21st August from 2pm-5pm.
This landscaped garden offers all year round interest and is inspirational in proving just what is possible in a small green space within an urban setting. This should be of particular interest to all gardeners when thinking of how they can use ideas created here in their own gardens. There are numerous seating areas, both under cover and in the open, plus a vegetable garden, ponds, gazebos, and other attractions. Entrance to this garden is £3.50 for adults.
Garten Garden, Lower Treculliacks, Constantine, Sunday 2nd October from 2pm-5pm
The gARTen garden is a real family garden, developed to create an ecologically driven environment for all creatures. The garden has been artistically executed and organically grown, embracing ecosystems for the home, children, plants, food, wildlife and nature. It is a mix of natural materials, enhancing feature plantings within the owners' aspirations for a low carbon life. The garden displays a creative use of wood, and an abundance of granite. Children's play is central to the garden, which is enhanced by the family's animals. Due to the wildlife, no dogs allowed.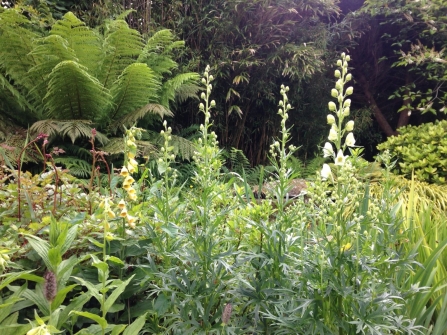 Pedn Billy, Helford Passage, Sunday 9th October from 2pm-5pm.
In past years this amazing garden with its stunning views of the Helford Estuary has broken all attendance and fundraising records for a single event held in aid of the Trust. Previously opening in the spring this year it moves to the autumn and is the final garden to open for the event. There are wild flower areas, beautiful specimen trees, and terraced borders. In October, the trees are vibrant with autumn colours, the fronds of the grasses form a wonderful back drop for the late summer flowering plants such as canna, agapanthus and asters. Half of the twelve acres is ancient woodland with paths winding down to Port Navas Creek and the Helford River and a private beach. Dogs are welcomed on leads.
Chris Betty, Communications Officer at Cornwall Wildlife Trust says
"We are thrilled that five new gardens have chosen to open for the first time in aid of Cornwall Wildlife Trust. We thank all the garden owners, particularly our regular supporters, as well as our sponsor Stayincornwall.co.uk. We are hoping for a brilliant season of fund raising events to help our important work protecting Cornwall's wildlife and wild places".
Matt Fletcher, Marketing Manager at Stayincornwall.co.uk says:
"We're delighted to further our support of the Cornwall Wildlife Trust by sponsoring the Open Gardens 2016. This colourful event will go a long way in showcasing the beauty of the county as well as highlighting the vital work that the Cornwall Wildlife Trust carries out to protect the region's wildlife and as such it's a pleasure to be involved".
Admission to all the gardens is £4 with under 16s free, with the exception of May Tree which is £3.50.
For further details and directions, please visit our Open Gardens page or call (01872) 273939.