Rare hermit crab rediscovered
A rare and brightly colourful hermit crab was discovered by volunteers on a Cornwall Wildlife Trust 'Shoresearch' survey at a Castle beach, Falmouth on Saturday 12th March. The tiny hermit crab measuring only six millimetres in length hasn't been recorded in Cornish waters since 1985!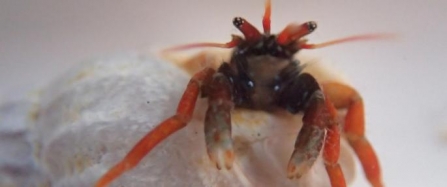 The species which doesn't have a common name is only known as Clibanarius erythropus (from the Latin meaning soldier, clad in mail with red legs!) This is a southern species which is common in Channel Islands and along the French coast and historically it was occasionally found on the south coast of Cornwall but since the Torrey Canyon oil spill of 1967 it virtually disappeared from our shores. 
Matt Slater said the reason this species has not recolonised sooner may be that the conditions simply have not been right. It is most likely the larvae of this species have arrived from Brittany or the Channel Islands ocean currents carrying the larvae must have been perfect and other factors such as temperature, food availability and water chemistry may have also played an important part . 
The discovery was made by Adrian Rowlands, a keen amateur photographer from Truro who was taking part in one of our public Shoresearch surveys. Adrian's eye was caught by the tiny crab in a white shell with bright red legs. He could tell it was something unusual and showed it to marine experts running the rockpooling survey. It is a beautiful creature and is unusual in that both claws are the same size and it has long red eye stalks and black eyes with white spots! At the end of the survey the well photographed crab was returned to the pool that Adrian found it in!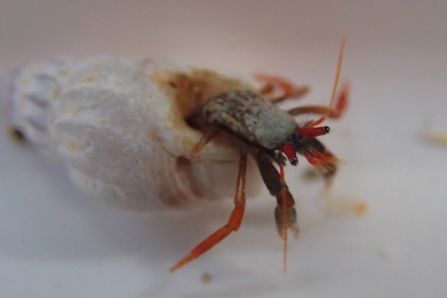 A host of other fascinating marine life was discovered during the rockpooling event run by the Trust's Shoresearch project, a citizen science programme which trains members of the public to get out and record what is living on our shores, generating information which is vital for conserving our marine environment.
Matt Slater, Marine Awareness Officer for Cornwall Wildlife Trust says,
"Spectacularly low tides and stunning weather provided a unique view of Cornwall's fabulous coastline exposing sections of the shore which you would normally only see with a snorkel! People were blown away by the fascinating marine creatures they found, including giant starfish, crabs of all shapes and sizes, sea slugs, sucker fish and a wealth of beautiful species of seaweed. Falmouth bay is recognised for its incredible marine life and is protected by European law as a Special Area of Conservation, it was great to show people what lives there. The discovery of the tiny rare hermit crab was the icing on the cake! We were all really excited by the find! Its scientific name is a bit of a mouthful so if anyone can think of a good name for the crab we would appreciate suggestions!".
Shoresearch surveys are carried out throughout the year, anyone who wants to learn is welcome to come along and take part. Every survey is different, and we nearly always find something exciting that we haven't seen before.
Many of our volunteers use photography to record what they find and we share our photos using facebook and a blog. You can see many more amazing finds on the Shoresearch Cornwall facebook page!
For more information on upcoming events for families and for those who would like to become a shoresearch survey volunteer please visit our Shoresearch page. 
Cool facts about hermit crabs:
• Hermit crabs are adapted to live inside the empty shell of a seasnail.
• A hermit crabs tail is soft and corkscrew shaped.
• When disturbed the crab can fully retreat into the shell, blocking the entrance with its claws.
• Hermit crabs are always on the lookout for a better shell and will even pull a rival crab out of its shell to get a new home.
• Hermit crabs often share their shell with other species; anemones provide a protection service by stinging predators like fish, most hermit crabs also have a resident bristle worm living inside the shell which may provide cleaning services!