Praise for new Isles of Scilly botanical book
A new book describing nearly one thousand wild and naturalised species of flowers and ferns found on the Isles of Scilly is getting high praise from both professional botanists and amateur enthusiasts throughout the country.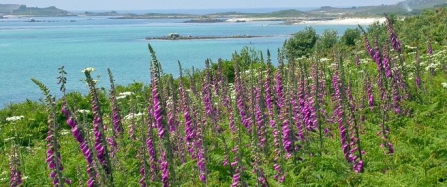 The New Flora of the Isles of Scilly is the culmination of many years of study by author Rosemary Parslow, with the help of co-author Ian Bennallick and designer Glynn Bennallick.
Rosemary Parslow says,
"We wanted to produce a book that was colourful, included lots of photos and distribution maps, plus information to interest not only the experts but beginners too. Due to the mostly mild and moist sub-tropical climate of the islands, some plants occur in the Isles of Scilly more abundantly than on the British mainland, and some are found nowhere else in Britain."
"We hope the book will stimulate more research and interest in the islands special flora, and help people enjoy and appreciate the wonderful floral displays they see when they walk around the islands".
The New Flora of the Isles of Scilly has sections on the geographical position of the Isles of Scilly; the early history of botanical recording; island habitat maps; descriptions of individual islands; alien plants; plant habitats; species accounts and maps; gazetteer of places; bibliography and useful references; and a list of recorders and contributors. It brings the record up to date since Lousley's 1971 Flora.
In full colour, the A4 hardback publication, 540 pages, has been supported by ERCCIS, the Environmental Records Centre for Cornwall and the Isles of Scilly hosted by Cornwall Wildlife Trust and the Cornwall and Isles of Scilly Federation of Biological Recorders (CISFBR).
Since being published in April one expert remarked: "I was very impressed with the amount of work that has gone into it". Other comments have included, "a real delight - fantastic design, absorbing background details of the islands, and really interesting species notes - with very helpful photos for those who haven't really got a clue. A beautifully crafted book with excellent research".
To buy The New Flora of the Isles of Scilly online, please visit the Cornwall Wildlife Trust online shop, where 10% of the book price will be donated to the Trust - http://www.cornwallwildlife.org.uk/shop/product/new-flora-isles-scilly
It can also be purchased by post. Please send your name and address and a cheque made payable to 'R. Parslow' for £58 (£50 plus £8 p&p) to Ian Bennallick, Lower Polmorla, St Wenn, Bodmin, Cornwall, PL30 5PE.