Dangerous trash turned into treasure
Local children saw for themselves just how dangerous marine litter can be for wildlife when they took part in a beach clean on Porthtowan Beach and found a dead gannet entangled in a fishing rope. They were later however, able to put fishing debris and plastics from the beach to better use.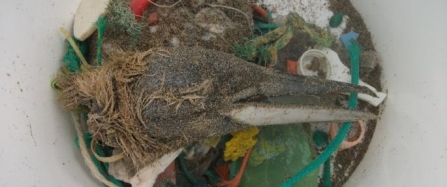 The event called 'Trash into Treasure', run by Fox Club, the junior section of Cornwall Wildlife Trust involved the beach clean followed by turning fishing rope and plastic which had previously been found and cleaned into necklaces and key rings. Helping the children with their creations was artist Becky Cottrell-Jury of Mankind, Mermaids and Me, while Fox Club Manager Kirstie Francis explained to the children just how dangerous marine litter can be to wildlife. The Blue Bar kindly allowed the use of their Board Room and the event was sponsored by South West Water.
One young lady, Ruby Floyd had been to a previous beach clean event with the Trust and she was so inspired by what she heard that she wrote an award winning speech about marine pollution which she read out to her fellow pupils at Penponds Primary School in Camborne.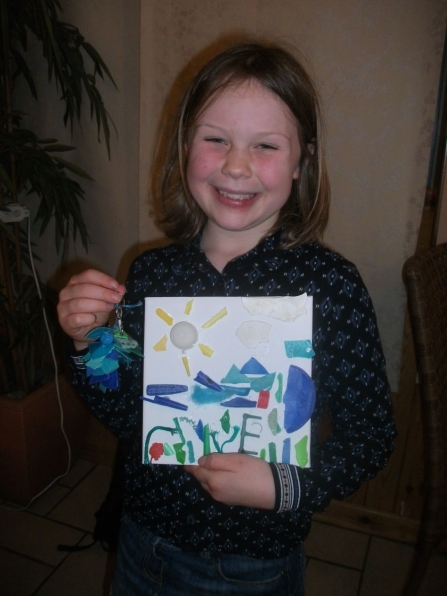 Part of Ruby's speech reads,
"Sadly, when you look closer there can be a lot of rubbish on our beaches. Plastic is probably the worst as it takes hundreds of years to decay. I saw an exhibition where it showed the insides of a seagull's stomach; it was full of plastic, including a cigarette lighter. I was shocked. Every year one million sea birds and 100 thousand sea animals die from eating or becoming entangled in rubbish. This is a disgrace". 
Ruby continues,
"Rubbish can come in with the tides from other countries, from people leaving litter on the beach, from the fishing industry or been blown around from overflowing bins. There needs to be a big change. We can all help by buying less plastic, reuse and recycle as much as possible. Join a beach clean group or take a bag and gloves to the beach and fill it up and dispose of it properly".
Kirstie Francis, Fox Club Manager for Cornwall Wildlife Trust says,
"It is really important that we engage children in issues such as marine pollution, but in a fun and positive way. It is great to see families taking part in these outside events together particularly at a time when Cornwall Wildlife Trust is promoting their 'Every Child Wild' campaign, aimed to get children outdoors and connecting with wildlife. We are very grateful to South West Water for supporting this important event."
Alan Hyde, Head of Communications for South West Water says,
"Our staff and partners work hard to protect the beautiful environment we enjoy in our region, so we're delighted to support Cornwall Wildlife Trust. This event shows that we all have a part to play in keeping our seas and beaches clean for people and wildlife to enjoy safely."