Cornish Master Fish a recipe for sustainability
Cornish Master Fish is an exciting new seafood recipe cooking competition which is open to anyone who loves cooking with Cornish seafood, whatever their age. It is latest in a drive by Cornwall Wildlife Trust's Cornwall Good Seafood Guide to encourage people to get behind local fishermen and eat more sustainable seafood!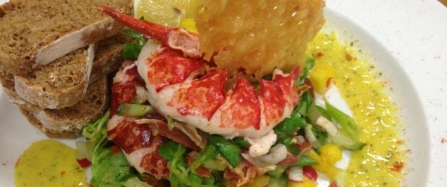 There are two categories, Junior Master Fish for the under-16s and Cornish Master Fish for the over-16s.
"Cornish seafood is fabulous! Cooking with fresh, local and sustainable seafood is good for you, good for the environment, good for local fishermen and it tastes great too!"

Matt Slater, Marine Awareness Officer
Matt Slater, Marine Awareness Officer at Cornwall Wildlife Trust says,
"Many of us are out of the habit of eating fresh local seafood but gradually this is changing and people are realising how tasty it is for us. In Cornwall we are lucky to have a wide selection of seafood which is harvested from healthy fish stocks using a range of different methods of fishing and fish farming, many of which have minimal impact on the environment".
The Trust's exciting new website, Cornwall Good Seafood Guide is encouraging more people to get behind their local fishing industry and eat more local, sustainable seafood, and one way that everyone can get involved is by entering our recipe competition!
Matt Slater continues,
"It's simple and fun to enter the competition. Just buy yourself some fresh Cornish seafood, checking our website to see if it is on the recommended list! And then cook yourself a nice meal! Take some photos of your creation, fill in our simple entry form, then email the completed form and a photo to, seafood@cornwallwildlifetrust.org.uk"
Only recipes that use seafood recommended by Cornwall Good Seafood Guide will be accepted. Check the website for details on what is recommended at www.cornwallgoodseafoodguide.org.uk. The website also features a where to buy directory which lists over 40 businesses in Cornwall who sell recommended seafood.
Where possible also source the other ingredients you use locally! The Trust is not looking for the most complicated recipe, in fact quite the opposite. Top marks will go to those who can demonstrate how easy it is to create fabulous seafood dishes.
A panel of experienced seafood chefs and fishmongers will score the entries and the winners will be announced at this year's Looe Festival of the Sea, a spectacular, free, marine themed event taking place on the beautiful harbour side at Looe on Sunday 1st May 2016.
Head judge Dominic Sadler, owner of the old sail loft in East Looe, has said he may even feature the winning recipes at his restaurant this summer. With a superb array of prizes, including tickets to Looe Music festival the Trust hopes that lots of budding chefs will send in their entries!
The competition is the brainchild of Michelle Sadler who is a supporter of Cornwall Good Seafood Guide and who is heavily involved in the organisation and relaunching of the Looe Festival of the Sea.
Michelle Sadler says.
 
"We are delighted to announce this competition is open for entries and we really hope that it encourages lots of people to eat more Cornish sustainable seafood."
Please visit www.cornwallgoodseafoodguide.org.uk for more details on the competition.
Competition Details
There two age categories:
• JUNIOR MASTER FISH (UNDER 16'S)
• CORNISH MASTER FISH (OVER 16'S)
We particularly welcome entries from schools and colleges. All recipes must feature local ingredients and seafood recommended by Cornwall Good Seafood Guide.
The winners will be announced at a live cookery demo at the Festival of the Sea, Looe, on the 1st May 2016
Entries must be in by Monday 25th April.
HOW TO ENTER
COOK SOME SEAFOOD
Please only use fresh Cornish seafood recommended by Cornwall Good Seafood Guide, to find a full list of species that are recommended and to find suppliers local to you visit our website www.cornwallgoodseafoodguide.org.uk
TAKE A PHOTO OF THE DISH
Must be a clear quality image at least 1Mb in size - you can use your phone camera!
FILL IN THE FORM
Download entry form from www.cornwallgoodseafoodguide.org.uk for entry forms and much more information.
EMAIL IT TO US
Email your completed entry form and at least one photograph of your dish to seafood@cornwallwilldifetrust.org.uk
Good Luck!