Christmas advert will bring joy and nature to children
The Wildlife Trusts are John Lewis's Christmas charity partner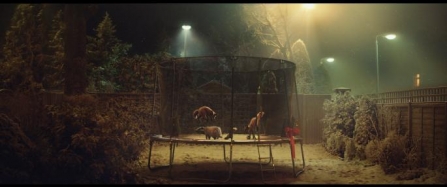 The Wildlife Trusts are delighted to be John Lewis's Christmas campaign charity partner.
This year's John Lewis Christmas advert which launches today, celebrates - with sparkle and a flash of magic - the joy of encountering wildlife in a garden using a cast of wild creatures including a fox, badger, squirrel and hedgehog.
10% of the sale of soft toys from the campaign will go towards The Wildlife Trusts' work engaging children with nature – this will include wildlife action packs for thousands of schoolchildren, activity booklets, and wildlife resources for teachers to use in lessons.
Chief Executive of The Wildlife Trusts, Stephanie Hilborne OBE, says: "The Wildlife Trusts believe that everyone should have the opportunity to experience the joy of nature and wild places in their daily lives. That's why we're delighted that John Lewis has put some of our most endearing wild animals at the centre of their magical advert and made The Wildlife Trusts their charity of choice this Christmas. With this support we will be able to inspire thousands more children about the wonders of the natural world."
There is growing evidence of how contact with the natural world benefits our health and sense of wellbeing. It is well-known that time spent outdoors in nature can be good for children: it can make them happier, healthier and more creative; for some it can have a life-changing impact.
* Find out how to be a little wilder this Christmas here www.wildlifetrusts.org/Christmas!
• Download our Wild Winter guide of nature activities and wildlife information!
• Find out how to help UK wildlife this winter!
• Be inspired to have a wildlife experience this winter!
• Learn more about that adventurous cast of wild characters in the advert!
 Editor's notes:  There are 47 individual Wildlife Trusts covering the whole of the UK. All are working for an environment rich in wildlife for everyone. We have more than 800,000 members including 150,000 members of our junior branch Wildlife Watch. Our vision is to create A Living Landscape and secure Living Seas. We manage around 2,300 nature reserves and every year we advise thousands of landowners and organisations on how to manage their land for wildlife. We also run marine conservation projects around the UK, collecting vital data on the state of our seas and celebrating our amazing marine wildlife. Every year we work with thousands of schools and our nature reserves and visitor centres receive millions of visitors. Each Wildlife Trust is working within its local communities to inspire people about the future of their area: their own Living Landscapes and Living Seas.
*For more information about the benefits of contact with nature for children, see Every Child Wild: making nature part of growing up – for all childrenwww.wildlifetrusts.org/news/2015/11/03/every-child-wild-making-nature-p…