Breast cancer campaigner supports Trust's My Wild Life campaign
Kris Hallenga, founder of the breast cancer awareness charity CoppaFeel!, is the latest personality to feature in Cornwall Wildlife Trust's successful My Wild Life campaign which aims to increase awareness of the importance of Cornwall's unique natural environment in our lives.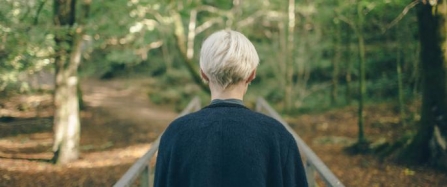 She was diagnosed with breast cancer at the age of 23 after her doctor originally dismissed a tumour as hormonal, leading to a late diagnosis. She has lived with terminal cancer for the last seven years and gains great strength by connecting with nature in the Cornish landscape.
Kris Hallenga says,
"Living with cancer means adapting to a new 'normal'. Some days this can be easy, manageable, doable, especially when you surround yourself with people who make having cancer okay. But sometimes I need to escape everything, every thought about having cancer, every aspect of my life, and the one place I have managed to do this is in Cornwall".
"You can't beat a blustery walk on the beach to clear your mind of frightening thoughts and nothing is more therapeutic than a fresh stroll through woodland when summer says goodbye and autumn colours burst into life. Cornwall has always been a very special escape for me and I feel lucky that it's part of my life with cancer".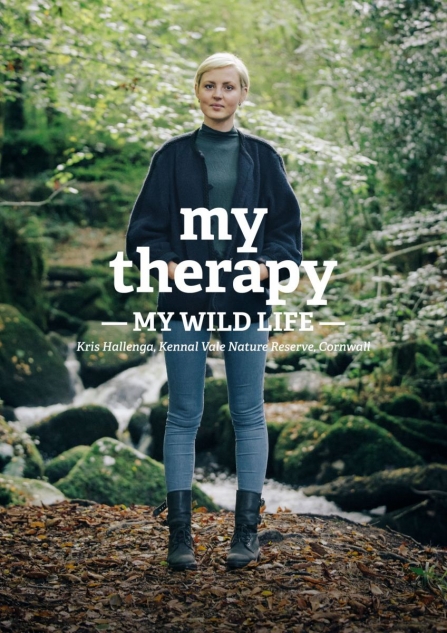 Kris's portrait entitled 'my therapy' features her at the Trust's Kennall Vale Nature Reserve and was taken by Cornish photographer Jack Johns. As part of the My Wild Life campaign it will feature at bus stops and other locations throughout the county.
After Kris was told three times that she was too young to get breast cancer she and her twin sister Maren devoted themselves to educating young people about the dangers of late diagnosis of breast cancer. They launched CoppaFeel! - A breast cancer awareness charity which receives frequent national media coverage, and is reputed to have saved thousands of lives.
Kris, also a national newspaper columnist received public attention after being profiled in Kris: Dying to Live, a BBC documentary that covered her experience living with terminal breast cancer. In 2009, she won a Pride of Britain Award and has been awarded an honorary doctorate in Public Administration from Nottingham Trent University 2015.
Chris Betty, Communications Officer for Cornwall Wildlife Trust says,
"We admire the fact that through CoppaFeel! Kris has helped so many young people, whilst going through cancer herself. We are delighted that she is a part of our My Wild Life campaign and that she finds strength through our beautiful Cornish landscape".