Beavers Are Back In Cornwall!
After being hunted to extinction in the UK 400 years ago beavers are now back in Cornwall thanks to a partnership between Cornwall Wildlife Trust and Woodland Valley Farm in Ladock near Truro creating one of the most exciting wildlife stories in Cornish history.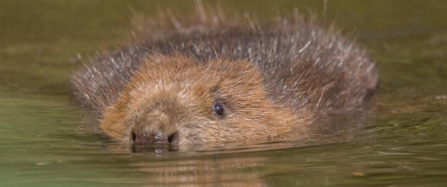 The ground-breaking Cornwall Beaver Project backed by a hugely successful Crowdfunder appeal hopes to show that beavers can help create new wildlife habitat, make our water cleaner and crucially reduce flooding.
A pair of European beavers, one male and one female were reintroduced to a five acre fenced area on Woodland Valley Farm on Friday 16th June, upstream of Ladock village that has been subject to severe flooding. The Trust's partners at the University of Exeter will be closely monitoring and studying the impacts of these new residents to Cornwall and building upon research from other reintroductions in the UK and across Europe.
The results will help the Trust determine whether this native species could once again become part of the Cornish landscape and help us combat flooding – naturally.
Chris Jones, owner of Woodland Valley Farm said,
Friday was one of the best days of my life with the release of a pair of adult European beavers at our site near Ladock. The whole day progressed with excitement building up until we actually let the beavers out of their crates at 4pm, in bright warm sunshine. The beavers seemed to be enjoying exploring their new home, and the assembled witnesses were fascinated at having such a tremendous view of these normally shy and hard to spot animals. It has taken three and a half years to get this point and followed from my thinking about natural ways to reduce flood risk following the flooding incidents in Ladock in 2012. Cornwall Wildlife Trust has been brilliant partners in getting this project off the ground, and the Crowdfunding campaign, without which we could never have got here.
Cheryl Marriott, Head of Conservation at Cornwall Wildlife Trust says,
"What a privilege to see a species returning to Cornwall so many generations after it was lost. It is now over to them to exhibit their natural dam-building behaviour and create more ponds and pools for wildlife and begin coppicing willows. We will be monitoring the effects of the beavers and will share the findings so we can all learn more about what these incredible animals can do."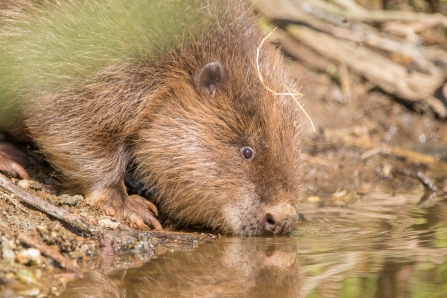 Cornwall Beaver Project has been made possible thanks to fantastic support from Trust members and the people of Cornwall generously donating to the project's Crowdfunder page. The £15,000 target was reached which has paid for the installation of the 650m beaver-proof fence and for the two beavers.
The Trust and Woodland Valley Farm are now excitedly planning for the future and are really pushing the boundaries with a £5,000 stretch target, hoping to reach £20,000 by the 30th June.
This extra money will help to pay the expenses of project volunteers, purchase equipment to enable catching the beavers for regular health checks and buy at least six trail cameras which will enable the Trust to be able to share amazing footage of these charismatic and industrious creatures on their website and social media channels.
One last thing that is also still needed for Cornwall's new beavers are names! What would you call them?! There is a chance to enter a prize draw to name them by donating £25 or more to the Crowdfunder page. Please see www.crowdfunder.co.uk/cornwallbeaver for details.
Photgraphy by Jack Hicks.