Bags of Help for Cornish Dolphins
There are few experiences more thrilling than watching dolphins from the clifftop, or out on a boat. But there is nothing more heart-wrenching than seeing them washed up dead on the beach and so far this year there have been almost 200 dead dolphins found on Cornish beaches.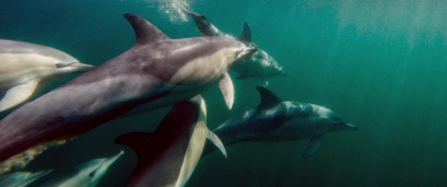 Cornwall Wildlife Trust's Marine Strandings Network is the licensed recorder for all marine strandings in Cornwall and consists of a team of over 100 volunteers who record all strandings of marine organisms on Cornwall's coastline. They man a 24/7 hotline which takes calls from the public when they find a dead animal on the coast, and they send trained volunteers to record every animal and where possible facilitate retrieval for post mortem. But it all needs funding.
Now you can help in this vital work and all you have to do is go shopping at Tesco between now and the end of August and support the Trust through the Tesco Bags of Help Scheme.
Bags of Help is Tesco's exciting local community grant scheme where the money raised from the 5p bag charge is being used to fund nominated local projects.
When you buy a bag you will be given a token which you then need to put in the appropriate voting box for Cornwall Wildlife Trust. If you don't receive a token ask for one at the checkout. Online shoppers can take their Customer Delivery Note into their local store in order to be given a voting token.
Following the vote, the project that receives the most votes in its area will receive a grant of up to £4,000, second place receiving up to £2,000 and third place up to £1,000.
Ruth Williams, Marine Conservation Manager at Cornwall Wildlife Trust says,
"Tragically in Cornwall, we have had an unprecedented number of animals washed ashore this year, with almost 200 dead animals being reported since the beginning of 2017. We desperately need to find out more about why these animals are dying which is why Cornwall Wildlife Trust is appealing for your support through the Tesco Bags of Help scheme."
Ruth Williams continues,
"Recording and examining stranded animals such as dolphins, seals and sharks, provides us with information about the marine environment and the health of marine creatures. This information is vital in helping us to determine the cause of death and threats to survival. We can then use this information to actively help us to conserve our seas and the marine life that lives in it.'
"By recording every stranded animal reported over the last 25 years, Cornwall Wildlife Trust and its dedicated volunteers have worked tirelessly to protect the county's marine life. We work with industry and government to try to find practical solutions to reduce the number of strandings, but we need the funding to continue to monitor our shores and gather this vital evidence".
To report a stranding please call the 24-hour emergency hotline on 0345 201 2626.