Grow More Trees: Autumn Seed Search
One of the easiest ways you can help nature is by growing and planting a native tree! Growing trees can really help nature recover and improve the natural environment where you live, for both wildlife and people, for generations to come.
Growing trees from locally collected tree seeds is the best way to do this, and can be great fun at the same time! You are never too young, or too old, to learn how to collect and grow your own trees from seeds.
Download the 'Grow More Trees: Autumn Seed Search' guide
Remember that Cornwall has some of the UK's rarest and most special wildlife habitats already. It's really important to think carefully about where to plant trees, to make the best decision for wildlife and protect existing habitats. Visit our 'Tree planting: the impact of planting in the wrong place' section below or download our guidance (PDF) to make sure you're planting your tree in the right place.
From collecting, to growing, to planting - you can help!
Along with Cornwall Council, we are asking you to get involved in a county-wide autumn seed search. As part of the project, we will talk you through how and where to collect, grow and plant tree seeds in Cornwall.
All trees planted will contribute to The Forest for Cornwall (Koos rag Kernow); an ambitious tree planting project by Cornwall Council with the principle aim of fighting climate change. When complete, it's hoped it will cover approximately 8,000 hectares - that's about 2% of Cornwall's land area.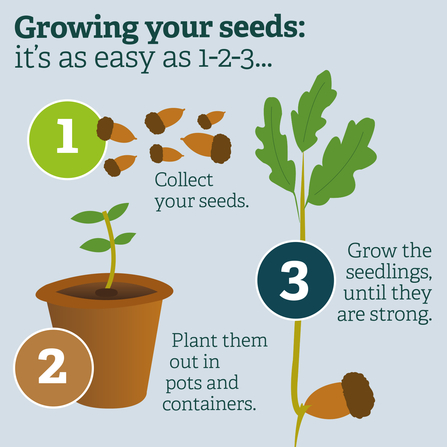 What's the first step to take?
The first step is to collect seeds and right now is the perfect time to do this. November is a great month for collecting acorns, holly, alder and hawthorn seeds. On this page, we will talk you through where to look and what to collect. You can find out more about the overall project and the stages of planting the saplings by reading the 'Grow More Trees: Autumn Seed Search' guide.
The best time to plant a tree is 20 years ago. The second best time is now.
How to collect and plant your seeds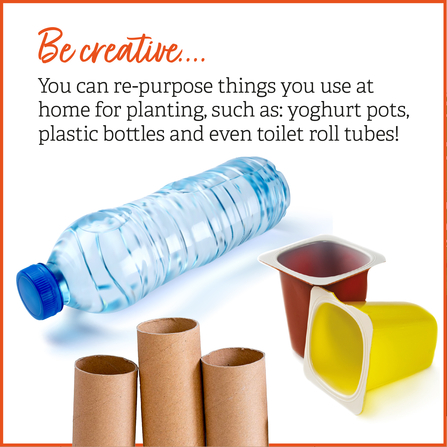 Firstly...
You'll need some containers in which to grow your seeds. If you can, try to re-use any old pots you can find, rather than buying new ones. Re-using old pots is a great way of helping the environment, by stopping them going into landfill!
Next...
If you have your own compost bin, here's the ideal opportunity to put its contents to good use. Failing that, bags of soil are readily available to buy from your local garden centre, but do choose carefully. Look for recycled or composted plant material, with coconut fibre as a good alternative, but do try to avoid using peat (even partpeat mixes) as the environmental damage caused by depleting the peat bogs could off-set all the positive effects of your tree-planting initiative!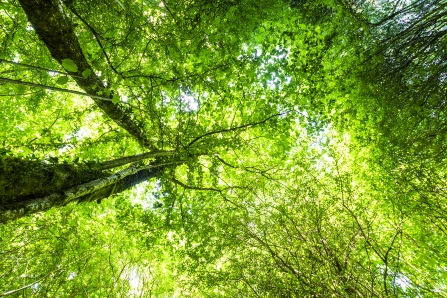 Now the fun really begins...
It's time to pull on your wellies and go seed hunting!
The very best time to collect tree seeds is between September and mid-October. Tree seeds come in all shapes and sizes. You can check and identify the many different species available to collect in Cornwall by looking at the gallery below.
There are lots to find and choose from - but remember, if you see two seeds, just pick up one and leave the other the opportunity to develop naturally just where it fell.
The circle of life begins afresh
Some of your seeds can be placed directly into a pot of soil, but others will need the flesh of surrounding berries removed and a dormant phase of at least one winter before planting. This is known as stratification. The seeds will also grow at different rates, some barely peeping above the soil while others race skyward with impressive speed. This is quite normal and, provided they have access to sunlight and are watered regularly, they'll soon develop into healthy young saplings.
A selection of trees and large shrubs which can be found growing naturally in Cornwall
Tree planting: the impact of planting in the wrong places
Cornwall has some of the UK's rarest and most special wildlife habitats. It's vital to not plant trees in areas of existing valuable habitat, as this could make them unsuitable for the special wildlife already there.
Wetlands like marshy grasslands, fens and bogs support specialist wildlife that cannot survive elsewhere. Their saturated peat soils store a huge amount of carbon, planting trees in wetlands dries them out, leading to a loss of soil carbon stores and declining biodiversity. Shade from planting trees on heathland could make it no longer suitable for already declining heathland wildlife including many plants, insects, birds and reptiles. Seemingly unimpressive grassland in winter may already be hugely important for wildlife, bursting with wildflowers, bumblebees and birds in summer. Even barren looking old mine sites can hold unexpected treasures, like mosses unique to Cornwall or rare mining bees that cannot survive without the type of open ground found only in these special places.
Our guidance (PDF) gives advice on suitable areas to plant trees; ideally target areas with the wildlife equivalent of a 'blank canvas', like the corner of a silage or arable field. If you know of any planned tree planting, ask if they have had advice from an experienced ecologist; some of Cornwall's most sensitive wildlife habitats may depend on it!
Here's Liz to explain more: