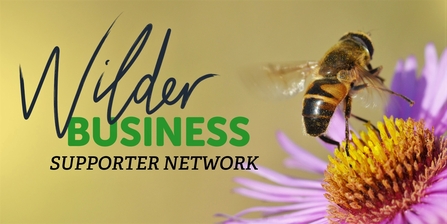 Join us as a Wilder Business
Become part of a network of businesses driving forward real change in Cornwall for the benefit of our local wildlife, the protection of the habitats they call home and in the fight against climate change. 
By supporting Cornwall Wildlife Trust, your business can make a direct contribution to our essential work across the county. By sharing details of our projects across your networks, your business can also provide a vital link between our work and your customers and social media followers.
The wildlife at Ekopod is one of the key elements of our guests' experience. Therefore, it seemed a natural step to become business members of Cornwall Wildlife Trust and support them in their vital work of improving the provision for wildlife in our area. Our guests love that we're associated with such a worthwhile charity, and we have received support from their team to improve our business in many ways, including helping us secure a TEVI grant earlier this year.
Wilder Business membership starts from £250 (+£50 VAT)  to £1,000 per year (+£200 VAT) per year
Please choose what level of membership best suits the size of your business, the impact you are looking to have, and join us in helping create a Wilder Cornwall.  
Join as a Wilder Business member via Direct Debit online now
Membership Benefits
Welcome pack*
Including a certificate for your office, business supporter logos for your website, a review of the work you are helping us to achieve, a guide to our nature reserves, as well as useful hints and tips to making your workplace more wildlife friendly
A pack of wildflower seeds
Plant the seeds in your workplace garden or a window box to support your local insect population helping to increase biodiversity
Communications support
A suite of communication tools to support our projects. Pictures, quotes, links and more to help you demonstrate your support. Access to wildlife activity sheets, how-to guides and much more
Direct links to Tevi Business Growth Programme**
Support to help grow your business and the environment, a direct link to CWT Tevi business advisor, invitations to free Tevi networking events and workshops and support with Tevi grant applications
Magazines*
Multiple copies of our magazines; Wild Cornwall, our membership magazine & Wildlife Watch, our magazine for kids, packed with lots of fun activities are sent out to you three times a year!
Events
Invitations to Cornwall Wildlife Trust events
'Netwalking'
The opportunity to immerse yourself in nature at one of our nature reserves whilst networking with other business owners
Contact
A dedicated point of contact who will be on hand to discuss any specific requirements and to explore opportunities to work together
Regular e-newsletter
We will keep you up to date with details on projects your support has helped support and opportunities to work with us throughout the year
Directory Listing*
Your business will be listed in our business supporters directory on our website and promoted via our new 'visitors page' aimed at people visiting Cornwall. 
Social Media Post*
A post to our social media following celebrating your membership
Wild Cornwall*
A mention in Wild Cornwall our membership magazine
* Membership options apply
**Only available to businesses in Cornwall with fewer than 150 staff
Choosing your membership level

| Benefits | Bronze | Silver | Gold |
| --- | --- | --- | --- |
| Welcome Pack | Yes | Yes | Yes |
| Wildflower seeds | Yes | Yes | Yes |
| Communications Support | Yes | Yes | Yes |
| Direct links to Tevi | Yes | Yes | Yes |
| Magazines  | up to 5 copies of each | up to 10 copies of each | up to 20 copies of each |
| Invitations to events | Yes | Yes | Yes |
| Netwalking | Yes | Yes | Yes |
| Website listing | Yes | Yes | Logo & company bio included |
| Social Media | Listed in post every quarter | Listed in post every quarter | Dedicated welcome post |
| Wild Cornwall Magazine | Listed | Listed | 1/4 Page article when joining |
| Certificate | Printed | Printed | Framed and presented |
| Personal Contact | Yes | Yes | Yes |
| Cost | £250 + £50 VAT per year | £500 + £100 VAT per year | £1,000 + £200 VAT per year |