Wildlife Friendly Businesses Receive Coveted Accolades
Four Cornish tourism businesses have been celebrated for their impressive contributions to Cornwall's wildlife, by winning in the Wildlife Friendly Business Award category at the Cornwall Tourism Awards 2016.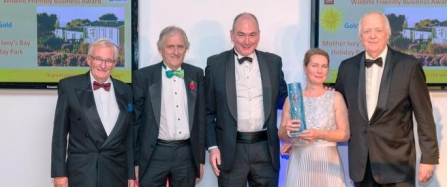 This popular category has been running since Cornwall Wildlife Trust's 50th Anniversary in 2012, and this year is sponsored by long-term Trust Wildlife Partner Trebah Garden. The wildlife that populates our environment makes Cornwall a very special place to be, and the aim of the Award give local businesses a chance to shine, allowing them to showcase their commitment to supporting, enhancing and promoting nature in Cornwall, for the enjoyment of their guests. It has long been recognised that the landscape and coast of the county are key selling points for visitors, which makes this work good for business too.
This year Trustee Keith Hambly-Staite and Cheryl Marriott, Conservation Manager for Cornwall Wildlife Trust, were judges in the Wildlife Friendly Business category. After the most entries ever received, there was a rigorous process of scoring, visits and debate by a panel of industry professionals. The judging panel has recognised that these businesses go the extra mile for our county's beautiful landscape and wildlife, which in turn helps to encourage millions of tourists to visit Cornwall every year.
The Trust is delighted to announce the following businesses as winners of the category:
• GOLD - Mother Ivey's Bay Holiday Park, near Padstow
• SILVER - The Olde House, Wadebridge
• BRONZE – Encounter Cornwall, Fowey
• BRONZE Wild Futures Monkey Sanctuary, Looe
Three businesses have also been awards Highly Commended in recognition for their efforts:
• St Eval Candle Company, St Eval
• Koru Kayaking, St Agnes
• Padstow Touring Park, Padstow
• Paradise Park, Hayle
Keith Hambly-Staite, Trustee at Cornwall Wildlife Trust says,
"Throughout the judging process I was struck by the willingness, enthusiasm and commitment of businesses to maintain and enhance their local environment and to promote its flora and fauna to their visitors. In a multitude of ways more and more tourist attractions and accommodation providers are recognising the importance of the environment and local wildlife to the success of their enterprises."
Keith Hambly-Staite continues,
"Tourism is a multi-million pound business sector bringing employment and economic wealth to many, often rural, parts of Cornwall. Our Wildlife Business Friendly category recognises the importance of business working with the environment which itself is the most important economic and social asset that we have. I would like to congratulate all those participating in the Awards, especially, the winners this year, but also all those who took part and who made this year the most successful yet."
Patrick Langmaid, Director at Gold-winning Mother Ivey's Bay Holiday Park says,
"This award is very precious to us because the category is hotly-contested and open to businesses from across the whole tourism sector. It's a real accolade and recognition of over a quarter of a century's hard work by our team, most recently our Gardener Alison, who has worked at the Eden Project and is full of ideas for even more improvement!"
The Trust would like to thank Trebah Garden for partnering the category this year. Director Nigel Burnett says,
"We are incredibly pleased to strengthen our partnership with Cornwall Wildlife Trust by sponsoring this award. Trebah is a keen supporter of the Trust and the important work they do throughout our county. In recent years we have enjoyed hosting their annual Wildlife Celebration weekend, so it was a natural progression to team up to encourage other tourism businesses to protect, enhance and develop their environs to be wildlife friendly. These awards showcase everything positive about tourism and its continual development within Cornwall, highlighting why the county is at the forefront of quality visitor experience and the passion across the sector to be sustainable whilst showcasing and preserving our beautiful countryside and coastline."
Cornwall Wildlife Trust has been hugely impressed with the efforts that businesses across the county are making to ensure their sites are suitable homes for nature. From large scale ponds to simple nest boxes and wildlife gardening, a whole range of initiatives have made a huge difference to the health of local wildlife. Cornish businesses are encouraged to get in touch with the Trust to see how they can work together for the future of our beautiful county's wildlife and wild places.
To find out more about how your business can support nature in Cornwall, please visit www.cornwallwildlifetrust.org.uk/business