Wear Your Wellies For Wildlife!
Cornwall Wildlife Trust is encouraging people to 'Wear Your Wellies For Wildlife' – a fun opportunity to help raise money for its important work protecting Cornwall's wildlife and wild places.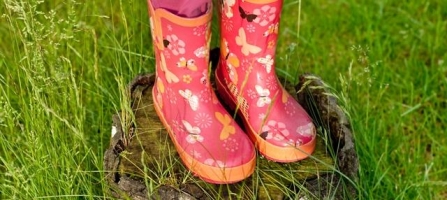 This fundraising challenge is open to anyone, whether you are a local school, business, sports club or community group; you can organise a 'Wear Your Wellies For Wildlife' day or event anywhere and at any time of year. The Trust asks that each person taking part donate £1 (or more if you wish).
Simply pick a date and ask those taking part to wear their wellies for the day. You may even wish to organise a special event to add an extra element of fun; why not organise a sponsored welly walk or run, a 'welly wanging' contest or even a game of football, rugby, netball or hockey whilst wearing wellies? You could even hold a 'Welly Disco' and dance the night away in your wellies!
Jackie Southon, Fundraising Manager at Cornwall Wildlife Trust says,
"Whatever your wellies, be they black, brightly coloured or even with frogs eyes on – you can 'Wear Your Wellies For Wildlife', have fun with your friends and colleagues and help raise much needed funds for the Trust's vital conservation work".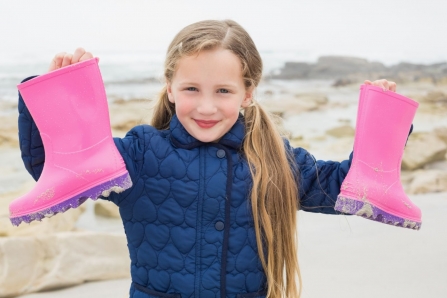 This initiative certainly offers the potential to put the 'fun' in fundraising; however it does also aim to increase awareness of the importance of the nature to all of us. The Trust has been working hard to protect Cornwall's wildlife for over 50 years, however increasing environmental pressures mean that its work is now more important than ever. All money raised will go directly into the Trust's conservation work, ensuring our beautiful county and its precious wildlife is protected and enhanced for future generations to enjoy.
Wear Your Wellies For Wildlife also aims to get people outdoors and connect with nature which is scientifically proven to make you happier, healthier and more creative!
This new fundraising scheme is supported by Trust Business Supporters Frugi, Beyond Organic Skincare, Cornish Orchards, St Eval Candle Company and Cornish Coffee.
Frugi, award winning organic children's clothing company and long term 'Wildlife Partner' of the Trust, is supporting a Wear Your Wellies For Wildlife colouring competition. Children are invited to enter to be in with a chance of winning a wonderful pair of Frugi's "Puddle Buster" wellington boots. All they need to do is colour in the welly picture found in the Trust's fundraising pack and send their designs in along with their £1.00 entry fee by Friday 25th of November 2016. The winners will be announced on Friday 2nd December with winning designs shared on the Trust's social media channels.
Visit Wear Your Wellie For Wildlife for a fundraising pack including the welly picture, Top 3 Tips for hosting a 'welly' great day along with all the information you need on putting together a successful event.
Whether you choose to fundraise at school, within your organisation or community group, the more you do the more you help protect Cornwall's wildlife and wild places.
If you are interested in taking part and would like further information: call (01872) 273939 or email fundraising@cornwallwildlifetrust.org.uk
Give it some welly!