Trust staff take on Round The Mount challenge
Members of Cornwall Wildlife Trust staff, from Reserves to Marine, Ecologists to Managers, are joining forces to swim the now infamous 'Round the Mount' RNLI wild swimming event this September for both Cornwall Wildlife Trust and the RNLI, and are calling on its supporters to help them raise some much needed funds for the brilliant charities.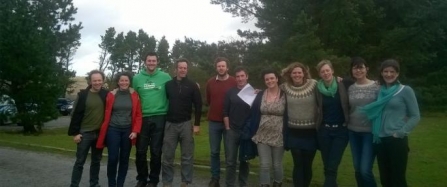 The 1.5 mile swim, which takes place on 10th September, is an open water swim around St Michael's Mount off Penzance. Conditions can be tough, with Atlantic swell and waves pushing participants to their limits. Cornwall Wildlife Trust staff have been training hard and working together to prepare themselves for the epic event.
Abby Crosby, Marine Conservation Officer for the Trust and team leader says,
"We all wanted to do something different which pushed us, and at the same time work together as a team to raise some much needed funds for both brilliant charities. Fitting training in around our busy work programmes and lives has been tough, particularly during the summer months when ecologists are busy with surveys, the marine team is busy with their events, and the reserves staff are packed out pulling ragwort! But we believe in the cause and haven't given up!"
The Team;
1. Abby Crosby, Marine Conservation Officer and Round the Mount CWT Team Leader
2. Matt Slater, Marine Awareness Officer
3. Ruth Williams, Marine Conservation Manger
4. Nat Gibb, Community Engagement Officer for the Your Shore Beach Ranger Project
5. Dai Lawton, Youth Engagement Officer for Your Shore Beach Ranger Project
6. Martin Goodall, ERCCIS Data Manager
7. Cheryl Marriot, Conservation Manager
8. Nick Marriot, West Cornwall Reserves Manager
9. Sean O'Hea, East Cornwall Reserves
10. Callum Deveney, Head of Reserves
11. Jon Cripps, Penhale Dunes Ranger
12. Sue Hocking, Upstream Thinking Project Ecologist
The Trust staff are calling out for support, and asking people to donate to their Just Giving Page to raise funds for both Cornwall Wildlife Trust and the RNLI. The first £600 raised will be donated to the RNLI, with all other donations going to the Trusts work in Cornwall to protect its wonderful wildlife and wild spaces.
Donations can be made via the Trust Just Giving page
For more information, please contact Abby on abby.crosby@cornnwallwildlifetrust.org.uk