Taking rockpooling to extremes
This summer Cornwall Wildlife Trust is expanding on their already popular rockpool ramble events and injecting more excitement in a series of extreme marine eco-events. It will also mean that the Trust can examine areas normally inaccessible unless accompanied by trained and qualified guides.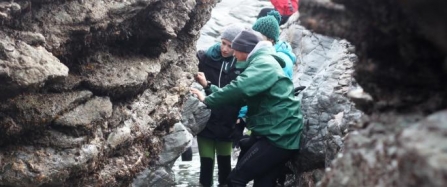 The first event led by experienced eco-coasteering experts Ben Spicer and Hugo Brown of Cornish Rock Tors was held at Polzeath, on Wednesday 6th April, and although conditions were too stormy and wild for jumping from the rocks into the water there was every chance to explore the unique geology of Cowrie Reef, with its epic gullies and crevices.
Matt Slater, Marine Awareness Officer at Cornwall Wildlife Trust says,
"It is amazing what you can find when you get out on our shores at low tide and by teaming up with quality local eco tour companies we are able to go farther and explore shores which we would not normally have access to".
"Ben and Hugo are really passionate about our marine environment and they love sharing their knowledge and enthusiasm with the people they take out on the shore. The event was awesome and all who took part were privileged to explore caves and gullies which are normally inaccessible or unsafe to explore unless accompanied by trained and qualified guides."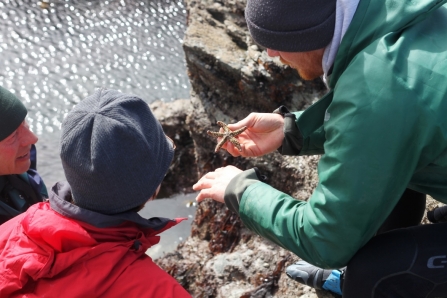 The crevices at Cowrie reef are full of life, some home to large edible crabs and Matt showed everyone how to safely handle them without being pinched! The reef is called Cowrie after the tiny predatory snail which lives there. Eight were discovered in one crevice alone, and velvet swimming crabs, sea cucumbers and a huge diversity of anemones and seaweeds were also found.
One of the rarest finds were Celtic sea slugs, a species only found in a handful of sites around Cornwall's coast, and beautiful Dahlia anemones whose flower like appearance hides the fact that they are lethal killing machines ready to sting and eat any passing marine life.
Matt Slater continues,
"We would like to thank Ben and Hugo of Cornish Rock Tors for helping us out and providing much needed local knowledge and safety cover on this exciting event. Their website offers more information on eco-coasteering at www.cornishrocktors.com
The next event in the series, on May 8, will be eco-coasteering in Newquay with Newquay Activity Centre and led by marine expert Karl Fice-Thompson. Spaces are limited for this event so please book early, cost is £27 per person. Call Newquay Activity Centre on 01637 877722.
With this new series of extreme events, to include eco-coasteering, snorkelling and stand up paddle boarding, Cornwall Wildlife Trust is hoping to attract more young people who are keen to help in the vital work of protecting the marine environment. In addition they are running an exciting new project aimed purely at the 16-24 age group called Your Shore Beach Rangers.
Extreme Eco-Events 2016
• May 8th Eco-Coasteering at Newquay with Karl Fice-Thompson - Newquay Activity Centre
• July 6th Evening Eco-Stand Up Paddle Boarding, exploring the upper reaches of the Helford estuary with Lawrence Smith of Ocean High SUP
• July 31st Introduction to snorkelling course, at Cornwall Wildlife Trust offices at Allet.
• August 3rd Eco-Stand Up Paddle Boarding and snorkelling session in Mounts Bay, with Lawrence Smith of Ocean High SUP
• August 4th Explore the caves of Whipsiderry, with Matt Slater and Shoresearch Cornwall.