Spring squill, bluer than bluebells!
One of spring's most vibrant plants is in full bloom at the moment, but not for long! Ligger and Holywell headlands situated on the coast between Holywell Bay and Perran Sands are covered in the blue hue of spring squill. This low growing plant loves coastal headlands covered in a short sward.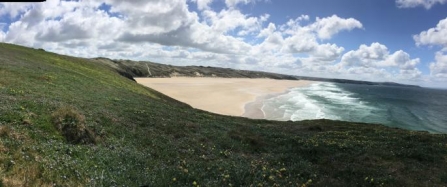 The headlands make up part of the Penhale Dunes Special Area of Conservation that Cornwall Wildlife Trust manages on behalf of the Ministry of Defence and Perran Sands Holiday Park. As part of the management the area has been grazed for a number of years. Hardy Shetland, Dartmoor and Exmoor ponies are chosen for this task. They are able to shrug off Atlantic storms and thrive on low calorie coastal grazing. Grazing has helped lower the height of vegetation which has helped to create a fantastic habitat for wild flowers to flourish. If you want to see spring squill then be quick as its already starting to set seed.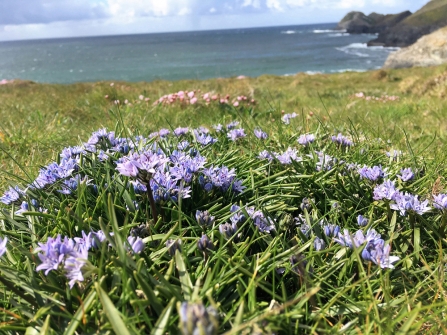 Jon Cripps, Penhale Dunes Ranger for Cornwall Wildlife Trust said,
"The headlands look stunning and it's really satisfying to think that grazing the area has helped to produce such vibrant results. The ponies are great fun to work with most of the time and have really earnt their keep! Grazing the headlands also creates a habitat more favourable for the Cornish chough"
Jon Cripps continues,
"As well as spring squill the headlands are covered in yellow kidney vetch and pink sea thrift. The combination of yellow, blue and pink on a sunny day in spring looks truly magnificent. The headlands are also fantastic for birds with large numbers of wheatear, house martin and swallow passing through and stonechat and skylark hanging around for the breeding season.'