Seasearch uncovers Newquay's hidden underwater treasures
A Seasearch Dive expedition organised by Cornwall Wildlife Trust, exploring the Newquay and Gannel Marine Conservation Zone, has led to some very exciting discoveries and confirmed that Newquay has a wealth of marine life.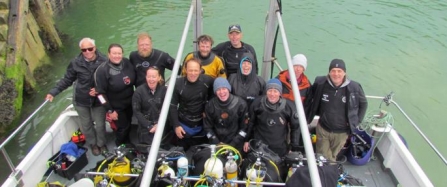 Divers with the Trust's Seasearch project went out at the weekend aboard the Atlantic Diver, skippered by Chris Lowe and sponsored by conservation fundraisers Sea-Changers.
Matt Slater, Marine Awareness Officer at Cornwall Wildlife Trust, says,
"Seasearch is great fun and it gives dives a new purpose. By documenting the wildlife divers spot our volunteers are helping us with our vital conservation work. We are really grateful for the funding Sea-Changers provided, as this expedition would not have gone ahead without their support."
Four dives were carried out with twelve divers taking part each day and each pair had at least one underwater photographer between them so their discoveries were well documented.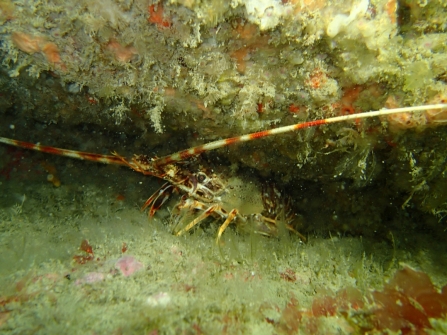 Highlights of the weekend included:
• A very exciting discovery was that Crawfish appear to be making a comeback and recolonising our rocky reefs after decades of decline, with ten young Crawfish being recorded by one diver on just one dive. Crawfish became virtually extinct in Cornish waters following heavy fishing during the 1970's and '80's by both divers and fishermen.
• Pink sea fans – a beautiful species of cold water coral which is nationally scarce is actually common on reefs off Newquay. The specimens seen by divers were very large and in great condition.
• All of the divers recorded interesting sea slugs living beneath the Newquay Kelp forests. These bizarre and colourful molluscs come in a wealth of shapes and sizes.
• Colourful anemones, cup corals, sponges and a huge diversity of seaweeds are also a big feature of the Marine Conservation zone, and every dive site was alive with spider crabs, lobsters, velvet swimming crabs and starfish.
• And they were not alone. While recording the marine life divers were buzzed by a friendly grey seal. The MCZ is an important feeding and breeding area for this species.
Also taking part were Perranporth based film maker Tom Daguerre and his colleague Matt Brown from Hydromotion Media who are currently working on a documentary about the marine life of Newquay and the Gannel Marine Conservation Zone. This is scheduled for release later this year.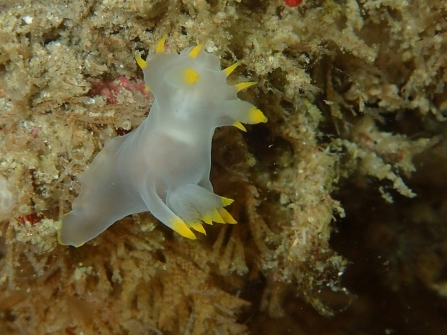 Matt Slater continues,
"Newquay is home to some of the best diving in the UK and local people should be proud that we have such a healthy ecosystem just beneath the waves. The newly designated Marine Conservation Zone means that the marine life within this area is now better protected for future generations to enjoy."
Seasearch is a national project, which trains qualified divers to record the habitats and species they encounter on their dives. Any divers who would like to get involved in Seasearch are asked to contact the Trust.
There are many more dives and training opportunities coming up this summer, all around Cornwall, including an expedition weekend in July with a survey of rocky reefs and wrecks of the Manacles Marine Conservation Zone. There will also be a Seasearch Surveyor Course, and Seaweeds Identification and Seasquirts Identification workshops. For more information please go to www.cornwallwildlifetrust.org.uk/seasearch The facebook group @Seasearch Cornwall has lots more photos and videos of the discoveries.