National Recognition for Cornwall's Environmental Records Centre
The Environmental Records Centre for Cornwall and the Isles of Scilly (ERCCIS), hosted by Cornwall Wildlife Trust has achieved the nationally accepted level of accreditation indicating it works to a set of criteria agreed by the Association of Local Environmental Records Centres (ALERC) and the National Biodiversity Network.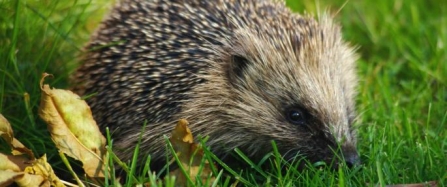 ERCCIS was assessed by an external team in March of this year and the positive result was announced today. This recognition remains valid for five years and will enable the Centre to build new relationships with other partners that will benefit Cornwall's wildlife and wild places. ERCCIS stores all of the county's biological and geological data which is used to support the Trust's vital conservation work.
Many people think that ERCCIS thrives on the reports of the unusual and rare, but this is far from the case. This year it is hedgehog records that are important. Unfortunately, they are on the decline across the UK and it needs to be seen if that trend is being repeated in Cornwall. It would be great if people could send all records of sightings of hedgehogs to ERCCIS then it could be confirmed if this is the case or not. To report your sightings go to www.ORKS.org.uk where you can input your record online or you can send it in to ERCCIS by post or e-mail.
Commenting on the accreditation success, Steve Crummay, Chair of the ERCCIS Advisory Board and a Cornwall Wildlife Trust Trustee said,
"This is an important day for ERCCIS; it shows that the Centre works to a very demanding set of criteria and delivers strong environmental data that helps significantly deliver conservation both in Cornwall and the Isles of Scilly. ERCCIS' reputation as a national leader in such work has been further enhanced by this great outcome."
For more information about ERCCIS visit www.erccis.org.uk.