Muscle-man Crab is the Star of Rockpool Ramble!
Beautiful Prisk Cove on the Helford River proved to have rich pickings for a lucky group of individuals and families that attended a recent Rockpool Ramble event. Over 40 people attended the event hosted by Cornwall Wildlife Trust's marine team who were on hand to identify finds, and kindly sponsored by Helston based children's wear company Frugi.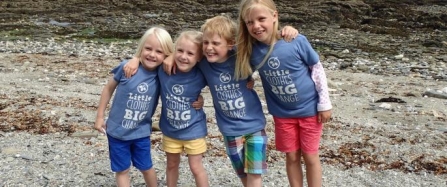 The rockpools were found to be teeming with life and featured a huge diversity of fantastic creatures.
Ruth Williams, Marine Conservation Officer at the Trust says,
"The biggest draw was undoubtedly crabs which included several different species such as the edible crab, velvet swimming crab and Xanthus, or as it has been renamed by the Trust, the muscle-man crab as it looks like it's been working out!"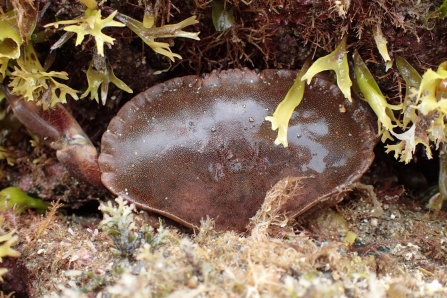 Frugi, which is proud to be the UK's best-selling organic children's wear brand, has been a long term Business Supporter of the Trust, donating £111,000 over the last 10 years to help fund vital marine conservation work. This year Frugi customers have the chance to vote for the Trust as one of three charities to benefit from their 'Little Clothes, BIG Change' giving project.
Antonia Mullaly, Business Support Manager at the Trust says,
"If you are planning to buy any of Frugi's gorgeous clothes and accessories, then please take the time to choose a charity for Frugi to donate to at the checkout. We would love it if you chose Cornwall Wildlife Trust, as all the money donated will go to our Living Seas programme which helps to keep our seas healthy and thriving!"
The ramblers also found brittle stars, a gorgeous green shore urchin, sea squirts, and a large spiny starfish found by Joe Williams. Frugi generously donated vouchers for their organic kid's clothes collection as prizes for the best discoveries. The winner was Oliver for the most unusual finds, and second prize went to Reuben and Poppy for the biggest variety of different types of crabs.