Island wildlife haven soon to open for season
Book your place to visit our stunning Looe Island Nature Reserve, just off the coast at Looe. It all begins with a boat trip across waters teaming with life, followed by a fascinating guided tour with the warden around the island which, with its various habitats, provides a quiet haven for wildlife.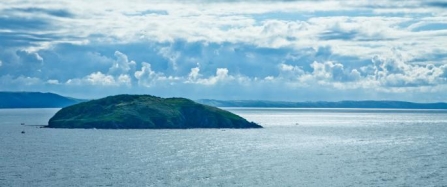 And for the really adventurous there is even the chance to stay on the island under canvas for three nights.
The nature reserve is home to many nesting birds such as cormorants, shags and oystercatchers, and Looe Island has the largest breeding colony in Cornwall of the majestic great black-backed gull, which has a wing span of around 1.5m. The island is also home to grey seals. With adult males of around 2m long and weighing over 200 kg they are Britain's largest mammal.
Afternoon visits to this amazing place begin with the fun of a boat trip from Looe's bustling fishing harbour. Once at the island the resident Cornwall Wildlife Trust warden will tell visitors all about the fascinating nature and history of the island.
A guided walk takes around three and a half hours and there is a chance for visitors to independently explore the island or join the warden for a slide show in Jetty Cottage.
Spring visits offer the chance to see seabirds breeding along the dramatic coast and take in the wonderful displays of wild flowers. Summer visits, and the reserve comes alive with insects, including around 15 different types of butterflies.
The guided walk also takes in the self-sufficiency fruit and vegetables plots, and the warden will explain just how the island is run without services such as mains water, electricity from the grid and shops! All the guided walks are afternoon events and cost £25 per person.
Dates this year are:
Wednesday April 6th 
Wednesday April 20th 
Thursday May 5th
Friday May 20th
Saturday June 4th
Monday July 18th
Thursday September 29th.
In addition there are two speciality guided walks, both afternoon events, and costing £25 per person: 
Sunday July 3rd, Birds of Looe Island with Derek Spooner
Thursday September 15th, History of Looe Island with Mark Camp.
But if you really want to experience island life the Trust has a bell tent available for three-night short breaks at a cost of £250, including the return boat fee.
The tent can comfortably sleep two adults and two children, under 11, and to reduce the impact on the island only a limited number of breaks are available each year.
Dates available in 2016 are:
Wednesday April 13th to 16th
Thursday May 12th to 15th
Friday May 27th to 30th
Wednesday September 7th to 10th.
The tent experience offers visitors the unique opportunity to stay on the island and enjoy the peace and tranquillity of this special location. With sunrise over the Ranneys through to sunset over Gribbin Head, this short break offers to chance to really get away from it all and experience a brilliant wildlife adventure.
Callum Deveney, Head of Nature Reserves says,
"The guided walks are a wonderful way to explore the island and learn about its fascinating wildlife and history. The walks are led by the island Wardens who are incredibly knowledgeable and will share their experiences of what it is like to live on a small island off the coast of Cornwall. If people want a taster of living on the island themselves we offer exclusive three night camping holidays at a magical part of the island where you will feel you have this special place to yourself."
"With an eco-friendly approach to island life, your impact on the environment will be minimised. Visitors will also have the satisfaction of knowing that money raised through this venture will help protect and conserve Cornwall's wildlife for the future. What's more, this is the chance to have a very special holiday which won't cost the earth".
Booking for the afternoon visits is essential. See our Looe Island page for further details.
To book the three night short break please contact Callum Deveney, Head of Nature Reserves on (01872) 273939 ext 222 or by email callum.deveney@cornwallwildlifetrust.org.uk