Inspired by wildlife at Trebah
The sub-tropical paradise of Trebah Garden, near Falmouth once again delivered for Cornwall Wildlife Trust's annual 'Wildlife Celebration'. The weekend event, supported by South West Water and West Briton built on the success of previous years and was a wonderful showcase of all the important work the Trust does protecting Cornwall's wildlife and wild places. Sunday saw a record number of visitors as 1,300 people enjoyed a host of wildlife activities in bright sunshine.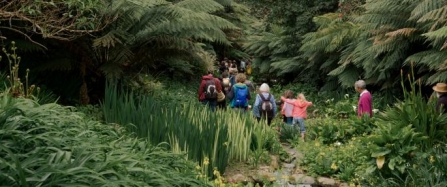 People were thrilled to be able to get close to and learn all about owls, buzzards, hawks and even snakes with the ever popular Feadon Farm Wildlife Centre. There was also a chance to see Trebah's wild birds with the British Trust for Ornithology putting on live bird ringing demonstrations. Tiny creatures were seen in fascinating detail with Kernow Microscopical Society and Cornwall Bat Group gave a rare opportunity to meet these nocturnal species. Cornwall Seal Group also joined in to share their important work, and visitors were interested to hear about the Trust's exciting plans to reintroduce beavers to Cornwall!
Trebah was a hive of wildlife inspired creativity with the nature reserves team helping visitors to make their own bird boxes whilst Fox Club, the Trust's junior membership gave young nature lovers the chance to get creative with a range of wildlife themed craft activities! Add in pond dipping, specialist wildlife walks through Trebah's beautiful gardens and low tide rockpool rambles with the Trust's marine team - and a wild time was had by all!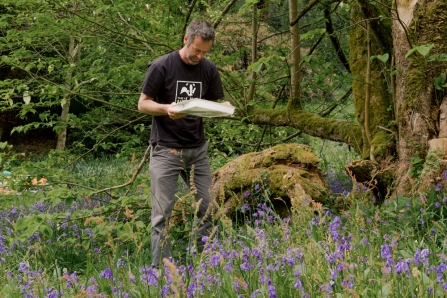 Dee Reeves, Trustee for Cornwall Wildlife Trust said,
"It was a great privilege for Cornwall Wildlife Trust supporters to be able to attend this unique event in such a superb setting – and for us to be able to inspire visitors with our work protecting Cornwall's wildlife and wild places."
"With something for everyone whatever their interest in wildlife conservation, it was such a pleasure to see people of all ages enjoying themselves and engaging in our work and passions. We would like to sincerely thank Trebah Garden for providing the perfect setting and South West Water and the West Briton for their valuable support".
Speaking about the weekend Nigel Burnett, Trebah Garden's Director says,
"In this our fourth year of hosting the Trust's Wildlife Celebration, it was heartening to see so many visitors of all ages enjoying the displays and presentations that Cornwall Wildlife Trust, their staff and volunteers so enthusiastically made available to their members and to our garden visitors. I would like to thank on behalf of Trebah and the Trust, to express appreciation to Chris and Jean Kessell for their goodwill and support by providing additional land for car parking, without which the event could not have taken place".
Alan Hyde Head of Communications for South West Water said,
"We were delighted to once again support this fantastic event in such a beautiful location. It was a great opportunity to talk to people about how looking after water is a starting place for looking after wildlife and how looking after both is good for everyone."
Cornwall Wildlife Trust would like to thank South West Water and West Briton for their support of Wildlife Celebration and of course Wildlife Partner Trebah Garden for once again providing such a wonderful venue.
All photos by www.elliesmart.co.uk