Grow your business the 'wild' way this year
Free networking event for businesses organised by Cornwall Wildlife Trust, in partnership with University of Exeter Business School.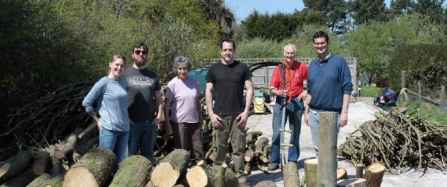 Event details:
• Event: Wild Business networking event; enhancing nature and profitability, exploring CSR.
• Date and time of event: Friday 27th January 2017, 8am to 11.30am.
• Where to meet: University of Exeter, The Exchange, Penryn Campus, Penryn, TR10 9FE
• Booking essential: Please book via https://wildbusiness.eventbrite.co.uk. Limited spaces available.
• Cost of event: FREE. Includes complimentary continental breakfast, refreshments, networking and workshops.
 Join us on Friday 27th January 2017 for a business networking breakfast with a difference. With a focus on Corporate Social Responsibility, and including case studies from local businesses who will share their sustainable working practices, we hope you will be inspired for the New Year ahead.
Stephen Hickman, Programme Director BSc Business at University of Exeter Business School says,
"Wildlife gives so much to brand Cornwall. Businesses can learn an awful lot from the innovations of nature's resilience. This event provides a great opportunity for businesses and community organisations to share awareness about nature through Corporate Social Responsibility, in a way that is helpful to wild Cornwall's environment, people and business sector."
As well as a fantastic opportunity to network with like-minded companies, you will hear from Trust wildlife experts about how to incorporate nature into your business for the benefit of people and the environment. We will also be joined by local businesses who will share their ethos of sustainability to encourage enhancement of nature and CSR into their core business, which leads to positive profits. 
Speakers include; Cheryl Marriott, Head of Conservation for Cornwall Wildlife Trust, Lizzy Stroud from award winning accommodation provider Railholiday and Sarah Morrison from renowned organic children's clothing company Frugi.
We are delighted that the keynote talk will be from serial entrepreneur, Louis Hurst. Louis has built businesses in a number of sectors from telecoms to coffee. He is a pioneer of conscious capitalism and believes 'a business that makes just money is a poor business'. In his talk, Louis will demonstrate that taking a holistic and ethical approach to business planning will have a positive effect on profitability, people retention, and business longevity.
Louis Hurst says,
"The way we do business has changed massively in the last decade, consumer choice and ethical awareness is greater than it ever has been. It is essential for a business to survive they need to embed themselves into the communities they work with. By placing community engagement at the heart of all business activities you will see increased consumer loyalty, greater staff retention and increased revenues."
Serena Pettigrew-Jolly, Business Support Manager for Cornwall Wildlife Trust says,
"We are very happy to have tremendous support from the business sector, including many local businesses that have a passion for a thriving natural environment as well as healthy communities and commerce. Our inaugural Wild Business event is the perfect setting to meet like-minded businesses and share ideas. I encourage any business who wants to stand out from the crowd and support the important work we do to join us. Our aim is to find a way of working together for wildlife and people in ways to suit your individual business, no matter what size. We live in a beautiful part of the world, and partnerships go a long way in helping us protect it."
The Wild Business event will be running from 8am to 11.30am and is FREE to attend. Including; complimentary continental breakfast, refreshments, networking and workshops. Booking is essential and spaces are limited, please visit https://wildbusiness.eventbrite.co.uk.
Visit www.cornwallwildlifetrust.org.uk/business, call (01872) 273939 ext. 205 or email serena.pettigrewjolly@cornwallwildlifetrust.org.uk for more information on the Wild Business event or how your business can support Cornwall's wildlife and wild places.