A decade of donations for Cornwall's Living Seas
Cornwall Wildlife Trust and Helston-based children's wear company Frugi are celebrating their 10 year partnership, which has seen an incredible £111,000 in donations from the business to the charity, especially to fund its vitally important marine conservation work known as Living Seas.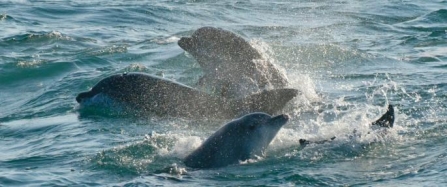 Frugi, the UK's best-selling organic children's wear brand, has been a long-standing Wildlife Partner of the Trust. Their annual donations have continued to grow, with this year's at nearly £18,000, making the grand total over £111,000. This milestone was celebrated at fantastic joint events last year, including beach arts and crafts as well as a spectacular Rockpool Ramble event at Prisk Cove on the Helford, held in Frugi's honour. A very special cake was created to showcase their huge donation and many species their funds help to protect! All sorts of amazing sealife was found during the rockpool ramble, some of the highlights being cushion starfish, a worm pipefish, beautifully striped squat lobsters, and the quirky Cornish suckerfish.
Ruth Williams, Marine Conservation Manager for Cornwall Wildlife Trust says,
"The amazing donations from Frugi over the last ten years have been used to fund both one-off projects as well as ongoing work to help protect our fab marine wildlife. Things like developing our work with fishermen to reduce the risk of catching dolphins in their nets by using pingers, collecting information from dive surveys to find out what really lives beneath the Cornish seas, training volunteers to help record stranded animals, and running events like rockpool rambles to show people what we have on our doorsteps and how they can do their own bit to help conserve it. Frugi are a fun, creative team to work with and our relationship with them is a great example of how to genuinely 'give something back'. We greatly value their partnership and hope we can continue to go from strength to strength together."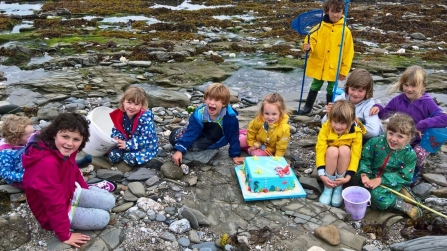 The company has been making donations to the Trust as a share of 1% of its annual turnover. The business' year on year success and global expansion has seen the charity's share rise as the years have progressed.
Frugi Co-Founders Lucy and Kurt Jewson chose to help fund Living Seas, an area of our work that they feel extremely passionate about. Being former marine biologists, their love for Cornwall's very special maritime ecosystem encouraged them to lend their support specifically to protect marine wildlife.
Kurt Jewson, Co-Founder of Frugi says,
"The reason why Frugi exists is to not only make brilliant children's clothes, but to show the world that a business can be successful, work along ethical principles, and give something back to society at the same time. Everyone at Frugi is extremely proud to continue to help to support the fantastic work that the Cornwall Wildlife Trust undertake. They are great guys, doing great things."
Frugi are continuing to support our marine conservation programme but will also focus on their new initiative – Little Clothes BIG Change, find out more at www.welovefrugi.com/customer/frugi/adults/giving_back. This initiative allows Frugi to support some fabulous children's charities both in the UK and where their clothes are manufactured, in India as well continuing their ongoing commitment to Cornwall Wildlife Trust.
Dee Reeves, Chair of the Trust's Marketing and Fundraising Committee adds,
"We are proud to celebrate the tenth anniversary of our friendship with Wildlife Partner Frugi and wish to thank them for putting Cornwall's wildlife to the top of their agenda. Every year their donation grows which clearly demonstrates Frugi's ethos and passion for positive environmental support and change. Such dedication is valued by their customers as it shows a genuine commitment to wildlife and, in particular, the spectacular marine life around our Cornish coasts."
Dee Reeves continues,
"At the Trust we work with businesses of all sizes and from many sectors, who all recognise the importance of protecting wildlife in Cornwall. Frugi is an excellent example of how business and respect for the environment can go hand in hand."
To find out more about how your business can support the Trust, please call (01872) 302264 or visit our Business Support pages. To learn more about the marine work that Frugi helps to fund please see our Living Seas pages.