Cornwall's Seafood Triumphs at the Sustainability Awards
The Cornwall Good Seafood Guide, a Cornwall Wildlife Trust project, has won the category for 'Best Contribution to Cornwall's Brand Through Sustainability: Enabler' at the Cornwall Sustainability Awards 2016. This annual event aims to encourage, reward and gain recognition for the excellent work businesses and organisations are doing to improve their own sustainability, and that of Cornwall and the Isles of Scilly as a whole.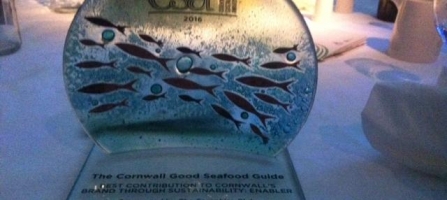 The Cornwall Good Seafood Guide is an online resource which celebrates the fantastic sustainable seafood landed in Cornwall. It was created by local wildlife charity Cornwall Wildlife Trust to provide consumers and businesses the information they need to ensure that they are making sustainable seafood choices. 
Steve Crummay, Trustee at Cornwall Wildlife Trust says,
"It was a great accolade to win this award for the Cornwall Good Seafood Guide and to have the work of the Cornwall Wildlife Trust and the supporting fishing industry partners recognised as making a difference in promoting Cornish sustainably caught seafood".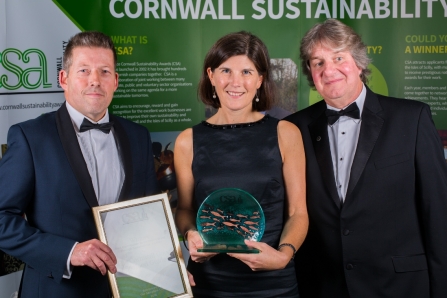 Although the fishing industry has been described by some as one the largest threats to our local marine life, marine staff at Cornwall Wildlife Trust realise the massive cultural and economic importance of the industry to Cornwall and that working with the industry to improve fishing methods and management is our biggest opportunity to help local marine life. 
Ruth Williams, Marine Conservation Manager at Cornwall Wildlife Trust says,
 "Conservationists and fishermen are not on opposing teams – a healthy marine environment is essential for productive fisheries. Our Cornish fishing industry is something we should all be proud of but knowing what fish to buy is a complicated issue. The Cornwall Good Seafood Guide addresses this by highlighting good practices and encouraging locals and visitors alike to buy Cornish. We are extremely proud to have won this award which acknowledges this work.''
Cornwall Good Seafood Guide has been produced by Cornwall Wildlife Trust, in partnership with the Cornish fishing industry and restaurateurs, to help to promote market demand for local, sustainably caught fish and support initiatives regionally and nationally to develop a sustainable future for fish stocks and fishermen. The website brings together a huge amount of information on Cornwall's fish and fishing industry, information which can all be accessed for the first time in one place. It also includes recipes, and a directory of businesses to source and enjoy good seafood more easily. For more information on Cornwall Good Seafood Guide, please see www.cornwallgoodseafoodguide.org.uk