Children have their eyes opened to an underwater world
Cornwall Wildlife Trust marine experts recently led a successful event where primary age children were taught the joys of snorkelling within the safety of some fabulous Cornish rockpools, with thanks to sponsorship from Trust Wildlife Partner South West Water.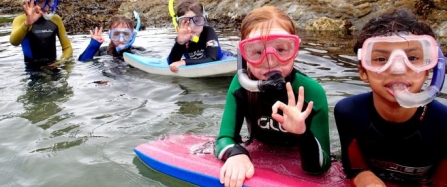 The Trust's Marine Awareness Officer Matt Slater had the idea for the event after teaching his own children to snorkel in large rockpools near Newquay a few years ago. Last summer he qualified as a British Sub Aqua Club snorkel instructor and so held the popular event for Cornwall Wildlife Trust's junior membership Fox Club.
Joined by the Trust's Your Shore Community Engagement Officer Natalie Gibb, Matt led a group of eight children down to a sheltered corner of Crantock Bay near Newquay for their first ever snorkelling experience.
Matt Slater said,
"Snorkelling is a great sport but entering an alien world can be overwhelming. For this reason it is important to choose a safe and sheltered environment with clear water. A large rockpool is the perfect place because, unlike a swimming pool, you can also get children used to seeing marine life such as seaweeds, shrimps, crabs and fish!"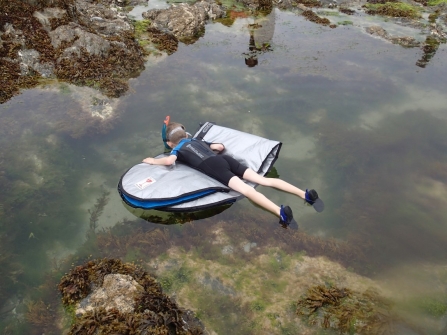 The Trust decided to keep the group small to ensure everyone had quality instruction and so that the pools did not get too stirred up or disturbed. The group were excited to see large shore crabs, shannies, gobies, juvenile pollock, limpets, dogwhelks, Japanese seaweed and sea lettuce in the rockpools.
The children used body boards and old surf board bags to lie on at the edge of the pools so that they got used to putting their faces in the water without having to fully immerse themselves.
Matt Slater continues,
"All involved really enjoyed themselves and we look forward to holding more events like this in the future with South West Water! Cornwall has some fabulous rockpooling and many sites have large enough pools for children to snorkel in."
There are some wonderful places to rockpool snorkel in Cornwall. Here is a list of some of Matt's favourites:
• Big rockpools at Cowrie Reef, Polzeath
• North end rockpools at Boobies Bay, near Constantine
• Tidal pool at Portreath, next to the harbour
• Tidal pool at Mousehole, in front of Old Coastguard Inn
• Rockpools at Crantock, West Pentire
Matt adds,
"When planning a rockpool snorkelling session always check the tides and look at the forecast wind direction. Choose a well sheltered shore, always follow the seashore code and take care of the pools ensuring you don't damage seaweeds or the marine creatures that live there."
The event was sponsored by South West Water and organised as part of The Wildlife Trusts' #NationalMarineWeek, which celebrates our fantastic marine life and important marine habitats. British marine life is much under- appreciated and marine week is all about reconnecting people with the marine world!