Celebrate Cornwall's wildlife with the Trust
Cornwall Wildlife Trust's two day Wildlife Celebration their biggest annual event, which showcases the work they do to protect Cornwall's wildlife and wild places, is once again being held at Trebah Garden in Mawnan Smith, and it promises to be a great weekend out for all the family.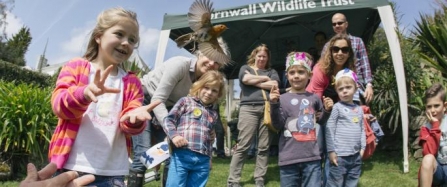 Over the weekend of the 22nd and 23rd of April a capacity crowd is expected at the event near Falmouth and with the location now firmly established, the Trust expects the event is be as popular as ever, with people travelling from around the county to enjoy the host of wildlife activities. The event is once again supported by South West Water and the West Briton newspaper.
Readers of the Trust's 'Wild Cornwall' magazine can use a free entry flyer from the Spring edition, otherwise the normal entry price is adults £10, seniors £9 and children £4. The gates open from 10.30am to 4.00pm. Car parking is free and the café will be open.
All the annual attractions will be there. Visitors will be able to get up close to a variety of wild creatures, watch wildlife demonstrations, as well as taking part in a variety of country craft activities, with nature walks and rockpool rambles using Trebah's beautiful garden and beach to its fullest. Fox Club, the Trust's junior section will be running fun and creative activities for young wildlife lovers, whatever the weather.
The ever popular Feadon Farm Wildlife Centre will be bringing along some of their animals, giving visitors the chance to get up close and learn all about owls, hawks, buzzards, rodents and even snakes! The British Trust for Ornithology will be pointing out Trebah's wild birds and giving live bird ringing demonstrations, while rescued Cornish bats will be there with the Cornwall Bat Group.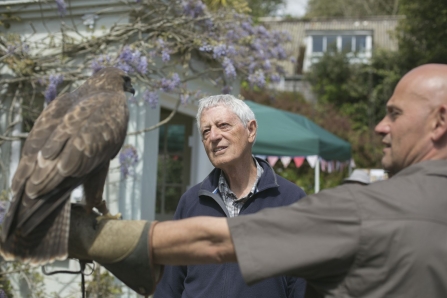 Mark Nicholson, Chairman of Trustees for Cornwall Wildlife Trust says,
"The Wildlife Celebration is an inspiring event through which we connect with our much-valued members and encourage others to support our work. We look forward to sharing the wonder of Cornwall's wildlife and showing how we can all help to protect it."
Alan Hyde, Head of Community Relations for South West Water says,
"We are delighted to support this fantastic two-day event in a stunning location. It's a great opportunity to get people talking about how looking after water is a starting place for looking after wildlife and how looking after both is good for everyone."
Chris Betty, Communications Officer for Cornwall Wildlife Trust says,
"We are looking forward to another brilliant weekend at Trebah. The Wildlife Celebration is our way of sharing what the Trust does for Cornwall with the public and at the same time giving visitors a brilliant weekend out. We love Cornwall and we love its wildlife, and this event showcases exactly that!"
"We hope that many visitors will feel as inspired as we are by the wildlife in Cornwall and join us not only for a great day out, but also want to get involved in the Trust itself through volunteering, surveying, wildlife recording, or just through becoming members. We are very grateful for the continued support from our Wildlife Partners South West Water, Trebah Garden and the West Briton".
The weekend programme of events is as follows:
Saturday 22nd April
11.00am to 12.00pm Strandline masterpieces on the beach
11.30am to 12.00pm Check bird boxes for chicks
12.00pm to 1.00pm Nature photography walk
1.30pm to 2.30pm Wildlife walk
2.30pm to 3.00pm Check bird boxes for chicks
Sunday 23rd April
11.00am to 12.00pm Rockpool Ramble on the beach
11.30am to 12.00pm Check bird boxes for chicks
12.00pm to 1.00pm Nature photography walk
1.30pm to 2.30pm Bugs and minibeasts walk
2.30pm to 3.00pm Check bird boxes for chicks
Plus all day Saturday and Sunday 10.30am to 4.00pm
Meet the animals of Feadon Farm Wildlife Centre
Bird ringing demonstrations all day
Fox Club Artrageous craft activities
See nature in detail under the microscope
Bird nestbox making and woodland craft
For more details please go to our Wildlife Celebration page