A calendar that helps Cornwall's wildlife
Cornwall Wildlife Trust has bought out their annual wildlife calendar, using stunning images from their photographic group, and from winners of their annual Wild Cornwall Calendar photo competition.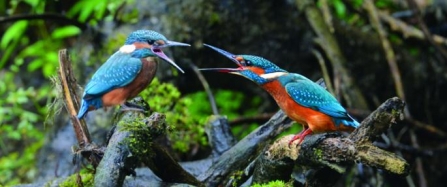 The calendar features Cornwall and its wildlife with the proceeds going directly to protecting the county's wildlife and wild places.
The Trust calendar for 2019 showcases 13 amazing images of Cornwall's wildlife and wild places. This calendar is perfect for anyone who treasures Cornwall's natural beauty but at the same time wants to actually help fund the work that Cornwall Wildlife Trust does. In buying this calendar you know that your money is helping the Trust.
Each month the calendar reflects the changing wildlife and seasons in Cornwall. The main images with information about the featured species include a red fox, grey seals, badgers, cuckoo wrasse, a bottlenose dolphin, and kingfishers grace the cover. There is also a 'what to look out for' wildlife spot each month, with wildlife information that many of us wouldn't know at first glance, such as the tiny gall wasp responsible for the 'Robin's Pincushion affecting many a rose. . There are photographs of even more creatures and some of the wildlife lovers who have been enjoying nature with the help of the Trust over the past 50 years.
The calendar also includes local Cornish events, such as Flora Day, Obby Oss, and St. Piranswith the months and days of the week in English as well as the Cornish language. It would make a brilliant gift for family and friends in Cornwall or for those who live far away as a poignant reminder of our beautiful county.
With every purchase of Cornwall Wildlife Trust's calendar for 2019, vital funds are raised to protect Cornwall's landscape and the wildlife, and through the generous support of local businesses, all production costs are covered so all sales make a direct contribution to the Trust's important conservation work.
The calendars are £6.50 each or 3 for £16. Calendars can be purchased online at www.cornwallwildlifetrust.org.uk/shop, by phoning the Trust on (01872) 302233 or posting a cheque to Cornwall Wildlife Trust, Five Acres, Allet, Truro, TR4 9DJ.
Entries for the 2020 Wild Cornwall Calendar are being accepted now, details on the website www.cornwallwildlifetrust.org.uk.