Cornwall Wildlife Trust's recent 'Wild Business' networking breakfast was hailed a success by those that attended and 100% of respondents agreed that: 'Incorporating nature into business can benefit people and the environment'.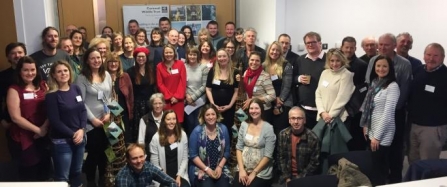 The event, held in partnership with the University of Exeter Business School, included a series of talks and workshops focusing on corporate social responsibility, nature and sustainability. Delegates heard case studies from local business, such as award winning accommodation provider Railholiday and renowned organic children's clothing company Frugi who shared their sustainable working practices.
Entrepreneur and Founder of the Amelix Group Louis Hurst was the keynote speaker, he commented,
"In my own businesses, we place community engagement at the heart of what we do and subscribe to the saying 'A Business That Makes Just Money is a Poor Business' we put equal importance on people, planet and profit. The knock-on effects have been incredible with increased consumer loyalty, greater staff retention and increased revenues. By sharing what we have done, I hope to inspire other businesses to make conscious capitalism work for them."
Following a series of inspiring workshops delegates were encouraged to make pledges about their own future plans and ideas for incorporating nature into their homes and businesses. These were attached to 'pledge trees' and included: 'To create butterfly habitats and to try and record existing species', 'To put in bird boxes and an insect hotel', 'Incorporate wildlife in a get together for social entrepreneurs this year and 'Dig a pond at home'.
Serena Pettigrew-Jolly, Business Support Manager, Cornwall Wildlife Trust said,
"Our aim was to bring like-minded businesses together with Trust wildlife experts and inspirational speakers by showcasing great stories and creating a forum for sharing ideas. We had great feedback following the event and were really impressed with people's ideas for their own businesses."
Samantha Rule, Employability Adviser, University of Exeter Business School said,
"It was a pleasure to work with Cornwall Wildlife Trust and host their event at our Penryn campus. It was fantastic to see and hear from so many businesses that are open to collaboratively work with each other and the trust to continue helping our local environment and nature. The Business School in Cornwall is passionate about the sustainability of our local economy and environment, therefore were extremely happy to support this event.