Another new garden opens for the Trust
Eighteen years ago there was very little garden at Bolts Quarry Farm at St. Breward. Now the garden has evolved into one really worthy of public inspection.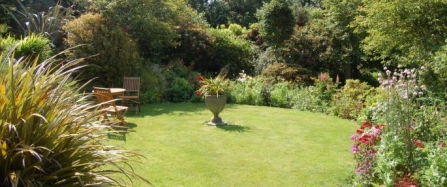 Through its Open Gardens scheme, Cornwall Wildlife Trust has six new gardens opening for the first time this year along with the regular favourites. Bolts Quarry Farm is one of these new locations. It opens to the public on Sunday June 5th from 2pm to 5pm. Admission is £4 with under 16s free. Dogs are welcomed on leads, and refreshments will be provided.
The development of the garden at Bolts Quarry Farm in Penvorder Lane, St. Breward, Bodmin, PL30 4NY, has been described as a very steep learning curve by its owners, and one that is still continuing.
Over the 18 years the gardens have evolved, and there is now a pond and bog garden, a quarry garden and a special wildlife area. A shrub area has been under planted with Pheasant Eye daffodils and there is a two-acre granite strewn hillside broadleaf plantation with a circular walk and granite spoil heap. A Mowhay rock garden is ablaze with flowers and shrubs and the front garden has borders planted with perennials.
This interesting garden is one of many throughout the county where special fundraising days are being held during 2016 for the Trust, funds which are vital for Cornwall's leading local wildlife charity in protecting the county's wildlife and wild places.
Chris Betty, Communications Officer for Cornwall Wildlife Trust says,
"Bolts Quarry Farm garden is the second of the new gardens opening for us for the first time, as well as all the regular favourites, and this one shows just what can be achieved over the years. The varied areas of the garden will be sure to have something of interest for everyone."
Pasties and cream teas will be available courtesy of event supporters Crantock Bakery and Roddas as well as a range of delicious homemade cakes supplied by Trust volunteers. The Trust's Open Gardens is sponsored by stayincornwall.co.uk
This is the sixth year running that the Trust has run their highly successful Open Gardens event. More details of all the gardens opening this year can be found on our Open Gardens page.
Other gardens opening for the Trust in the year are: June 12th Wildflower Cottage, at Rose, near Perranporth, June 26th Lethytep, at Penadlake near Lanreath, July 3rd Trevoole Farm, at Praze-an-Beeble, July 24th Higher Trenedden, at Peakswater, near Pelynt, August 7th The Ranch House, at St. Issey, near Wadebridge, August 21st May Tree Garden, at St. Austell, October 2nd Garten Gardens, at Lower Treculliacks, Constantine, and October 9th Pedn Billy, at Helford Passage.