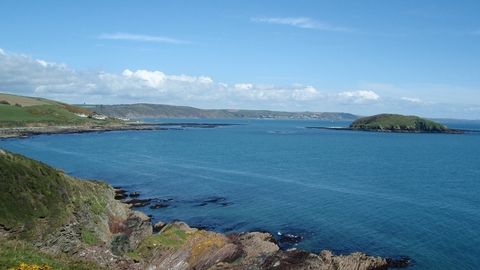 An island whose surrounding waters are teeming with life
Know before you go
Entry fee
Boat and landing fees payable
Grazing animals
Hebridean Sheep and Shetland Ponies
Walking trails
There is a self-guided trail (just over 1km long) and the paths are steep and can be slippery/uneven in places.The island is home to a number of people; please respect their privacy.
More information on Looe Island stays and visits
Please visit the Looe Island pages to learn more about visiting and staying on Looe Island.
Access
Visits to the Island are possible via official organised trips only. Access to the island involves climbing over the side of the boat onto a narrow portable landing trolley. Care is also needed to negotiate the swash of the waves which can cover the trolley. The path from the beach to the Tractor Shed has a slope and there are some steps around the buildings. Elsewhere some paths are steep, uneven and slippery, so we recommend wearing appropriate footwear. For more information and advice for wheelchair users, contact the warden. Please note: no landing unless by prior arrangement and no drones.
When to visit
Opening times
Approx Easter to end of September. Please note that visits can only be made on official, organised trips.
Best time to visit
April to September
About the reserve
This island is a marine nature reserve and the waters around it are teeming with life. It provides a quiet haven for wildlife, with a variety of habitats including woodland, maritime grassland, sand, shingle, and rocky reef.