Bell Tent Canvas Holidays on Looe Island
Availability for 2022 bookings will be published here as and when dates are made available.  Thank you for your patience.
Our fantastic bell tent is available for three-night short breaks on Looe Island Nature Reserve. This gives visitors the unique opportunity to stay on the island and enjoy all the peace and tranquility of this special location.
A holiday on Looe Island Nature Reserve is a much coveted experience. Staying in our bell tent means you can enjoy a relaxing time on the island – from sunrise over the Ranneys through to sunset over Gribbin Head. You'll be able to relax as you watch the island's wildlife and feel like you are on a real adventure as you explore the island's hidden corners. Being tucked away in its own private spot on the nature reserve you really will feel like you have gotten away from it all.
What's more this will give you the chance to holiday without costing the earth. With an eco-friendly approach to island life, your impact on the environment will be minimised. You'll also have the satisfaction of knowing that money raised from this venture will help protect and conserve Cornwall's wildlife for the future.
For further details please see the information below and the download available at the bottom of this page.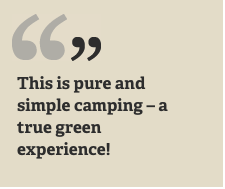 How many people can stay in the bell tent? 
The bell tent can comfortably sleep two adults and two children (under 11) but please contact us if you require further information.
How much does it cost?
The price is for a three night stay in the bell tent and includes the return boat fee. The charge depends on the number of guests (maximum 4 people):
one or two people - £250
three people - £275
four people - £300
When can I stay?
To reduce the impact on the island only a limited number of breaks are available each year. Boat departures to and from the island vary but are generally mid-morning, more details will be given upon booking. The final boat times will be confirmed the evening before departure.
Availability
Each year we receive more enquiries for bell tent holidays than we can accommodate. To make the booking process as fair as possible, we will ask that you register your interest using an on-line form that will become available when holidays are offered.
Detailed information about staying in the bell tent