Wildlife partnership flying high
Vine House Farm, the home of pioneering wildlife-friendly farmer Nicolas Watts and his family, grows 400 acres of bird seed, including 100 acres of sunflowers, and is a haven for a host of wildlife.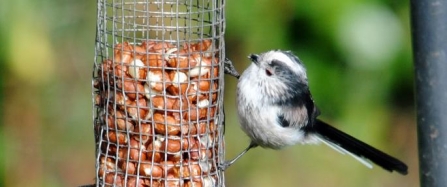 This month The Wildlife Trusts are celebrating a flourishing 10-year partnership with Vine House Farm, working together for wildlife. By donating up to 5% of its sales to The Wildlife Trusts, Vine House Farm has raised over £1,250,000 to support wildlife conservation across the country, and inspire people to experience wildlife first-hand.
Jan Pentreath, President of Cornwall Wildlife Trust said,
"Vine House Farm is a great example of an innovative company that puts environmental growth at the heart of its business. It's incredible track record of annual donations has given an invaluable boost to our conservation work across the county, helping us to ensure that Cornwall's wildlife and wild places are now thriving and have a brighter future. On behalf of everyone here at Cornwall Wildlife Trust I would like to thank Nicholas Watts and his family for their fantastic generosity and support."
Stephanie Hilborne, CEO of The Wildlife Trusts said,
"Ten years ago, we chose to partner with Vine House Farm not just because they produce great birdseed but because of the amazing things they were doing for wildlife on their own farm and their very real commitment to our work. People taking action in the places that are closest and most important to them is a powerful force for change. The thousands of people who buy the birdseed are doing just this, and so too are Nicholas and his daughter Lucy. We're very proud to be working with Vine House Farm to bring about nature's recovery and to bring the joy of wildlife into more people's lives."
Fourth-generation farmer Nicholas has been working the land at Vine House Farm in Deeping St Nicholas, Lincolnshire since he was a boy. His bird watching hobby became part of his work in 1992, leading to an MBE for his wildlife conservation work and wildlife-friendly farm management, and many other awards.
Nicholas Watts MBE said,
"Farming this way is a way of life for us and it brings about great pleasure to see wildlife thriving. I have always enjoyed feeding birds and now I am feeding more than I could ever have imagined with the help of our customers!"
Over the last 20 years, thanks to wildlife-friendly measures put in place at the farm, barn owl and whitethroat numbers have quadrupled, and tree sparrow and lapwing numbers have increased ten-fold.